---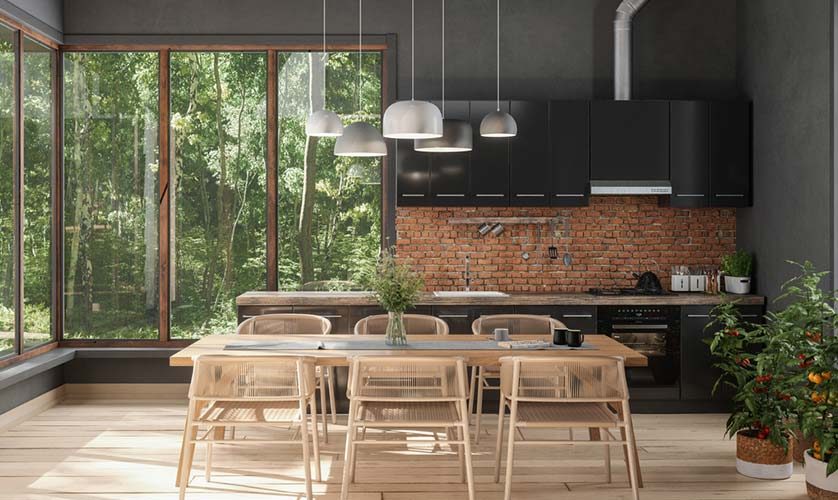 ---
The kitchen has long been considered the heart of the home, where family and friends gather to share meals, conversation and memories. One way to enhance the functionality and charm of your kitchen is by creating an eat-in kitchen. Designing one can offer numerous benefits, from fostering a sense of togetherness to maximizing space efficiency.
Before you start obtaining a kitchen estimate from a prospective remodeler, check out this guide on the eat-in kitchen, including its advantages and the many different ways to set it up.
The Benefits of an Eat-In Kitchen
An eat-in kitchen encourages family members to come together, bond and connect over breakfast, lunch or dinner. Incorporating elements common to a dining area into the kitchen can also optimize space utilization, especially in smaller homes or apartments, where every square foot counts.
Additionally, an eat-in kitchen offers a more relaxed and informal dining experience, perfect for quick meals, snacks or impromptu gatherings. It can also serve as a versatile space for various activities, such as homework, reading or working on your laptop while enjoying a cup of coffee. Moreover, a well-designed eat-in kitchen can add value to your home and make it more attractive to potential buyers.
How to Design Your Own Eat-In Kitchen
These are just some of the many ways you can design your eat-in kitchen:
Island Dining. If you have a spacious kitchen, consider incorporating an island with a built-in dining area. This can be achieved by extending the countertop to create a bar-like overhang with stools. It's perfect for quick meals, snacks or even a makeshift workspace.
Breakfast Nook. A cozy breakfast nook is a popular choice for an eat-in kitchen. It typically consists of a small table and chairs or benches tucked into a corner or bay window area. Consider adding built-in seating with storage beneath for a space-efficient solution. This setup is ideal for intimate family meals.
Banquette Seating. A built-in banquette, often placed along one wall with a table in front, offers a comfortable and space-saving solution. It can be customized with cushions and throw pillows for added comfort and style. This setup is great for maximizing seating in a smaller kitchen.
Peninsula Dining. Similar to an island, a peninsula is a connected countertop that extends from a kitchen wall. It can accommodate barstools on one side, creating a dining area with a clear separation between the kitchen and eating space.
Open Concept Dining. In open-concept floor plans, the kitchen seamlessly flows into the dining area, creating a sense of continuity and spaciousness. This setup allows for a larger dining table and more seating options for family gatherings or entertaining guests.
Fold-Down Tables. In kitchens with limited space, a fold-down dining table is worthwhile solution that can be easily stowed away when not in use. Wall-mounted or drop-leaf tables are excellent choices for this purpose.
Let's Start a Conversation!
Still searching Google for a "kitchen remodeler near me"? You don't have to do so because DreamMaker Bath & Kitchen of Wilmington is here to guide you through the kitchen remodeling process. We specialize in tailored remodeling solutions that transform your living spaces into a functional and inviting haven you and your family can enjoy being in.
Call us at (910) 928-2207, or fill out this contact form to get started on a kitchen quote. We proudly serve homeowners in Wrightsville Beach, Marsh Oaks, Porters Neck and Port City.