---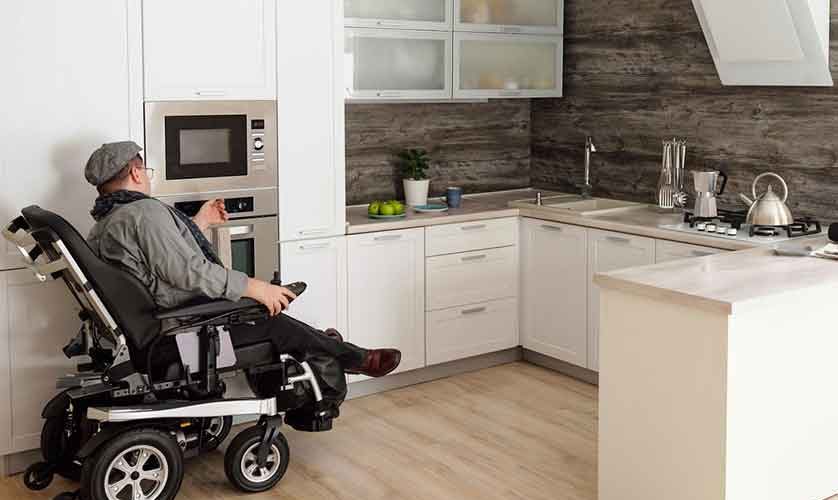 ---
An ADA-compliant kitchen is a great way to ensure the safety and independence of household members, particularly the elderly and individuals with mobility issues. If you are planning to design one, however, make sure it has features that can help accommodate your loved ones' physical and mobility limitations. Of course, it must be included in the detailed kitchen quote. DreamMaker Bath & Kitchen of Wilmington discusses them below.
Key Features of an ADA-Compliant Kitchen
An ADA-compliant kitchen should have features designed for accessibility and ease of use for individuals with physical limitations, such as the following:
Countertops and Work Surfaces. Adjustable-height countertops are essential because they allow older adults to reach and work on them easily, even if they have height limitations or mobility issues. Counters with rounded edges can also help lower the chances of getting injured while using the kitchen.
Cabinets and Storage. Pull-out shelves, low cabinets and easy-to-reach storage spaces make it easy to find any kitchenware, dinnerware and other needed tools. Also, lever- or loop-style handles are worth incorporating in accessible remodeling projects because they're easy to open and close.
Appliances. Wall ovens can be installed at a lower height, suitable for wheelchair users to use them efficiently. Cooktops with front-mounted controls reduce the need to reach over hot burners and minimize injury. Lastly, refrigerators and dishwashers with side-by-side doors or drawers make it easy to access food, bottles and other items.
Sinks and Faucets. Shallow sinks with rear drains provide legroom for wheelchair users. Also, touch or single-lever faucets make it easier for everyone to control water flow and temperature.
Flooring and Lighting. Slip-resistant flooring reduces the risk of falls. Adding glare-free bright light sources will illuminate every part of the kitchen for maximum visibility and safety.
The Process of Creating an ADA-Compliant Kitchen
Designing an ADA-compliant kitchen involves a few crucial steps:
Assessing individual needs. Before embarking on a remodeling project, it's essential to evaluate the specific requirements of the person with disabilities who will be using the kitchen.
Obtaining a quote. Reach out to a professional contractor to discuss your accessibility goals and gather a detailed kitchen quote for the necessary renovations.
Working with a reliable remodeler. The team you hire for the project must be knowledgeable when it comes to accessible remodeling and has a deep understanding of the ADA guidelines.
Let's Start a Conversation!
DreamMaker Bath & Kitchen of Wilmington is the "kitchen remodeler near me" homeowners in Port City, Forest Hills, Leland, Pine Valley and Carolina Beach trust. Our team of certified professionals is committed to providing exceptional service and the highest quality of workmanship. We have extensive experience in accessible remodeling and will work with you every step of the way to bring your vision to life. Let's get started — call us at (910) 928-2207, or fill out this contact form to schedule a conversation.