---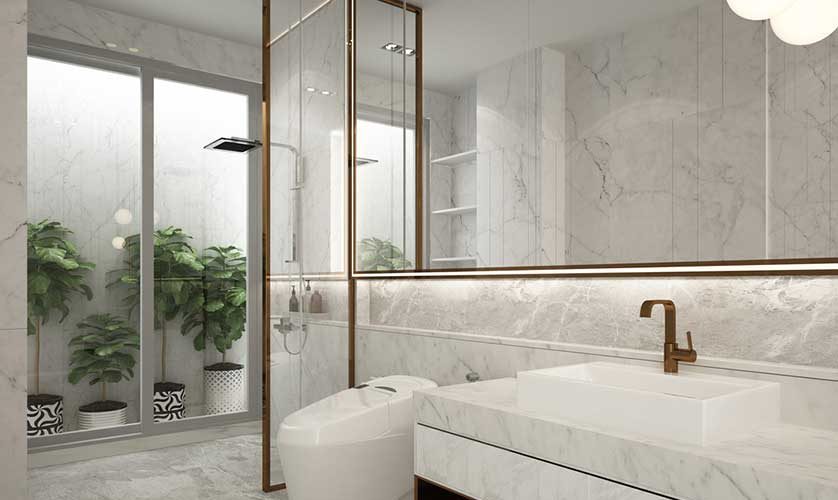 ---
If your bathroom looks like it's unevenly or poorly-lit, it probably is. In today's post, local bathroom contractor DreamMaker Bath & Kitchen of Tyler explores the different types of bathroom lighting and how they work together to create a properly-lit space.
Lighting Categories
Bathroom lighting can be grouped into three categories:
Ambient lighting. Ambient lighting is the base layer of illumination that sets the tone and mood in a bathroom. Standard fixtures include flush-mounted ceiling lights, recessed lights and pendant lights, which should be placed strategically to ensure even coverage and avoid harsh shadows.
Task lighting. Task lighting provides targeted and bright illumination for activities like shaving or applying makeup. Examples include vanity lights, sconces and under-cabinet lights. Choose fixtures mounted at eye level for vanity areas to prevent shadows.
Accent lighting. Accent lighting adds depth and visual interest to a bathroom by highlighting design elements and features. Some of these are wall-mounted picture lights, track lights and concealed LED strip lights.
Design Considerations
When designing bathroom lighting with the help of a bathroom remodeler, it's important to consider how the lighting fixtures will work with the room's overall design — there should be balance between illumination and aesthetics. The bathroom's size will also inform how many fixtures should be installed. The bigger the bathroom, the more ambient lighting fixtures will be needed to avoid dark spots in between.
Fixture placement matters as well; properly-placed fixtures can help you get the most impact out of them. Placing vanity lights or sconces at eye level, for instance, can prevent unflattering shadows while providing ample illumination for daily tasks. Accent lighting near architectural features or artwork can enhance their visual impact and create a focal point in your bathroom.
Let's Start a Conversation!
Ready to update your bathroom? DreamMaker Bath & Kitchen of Tyler is the trusted "bathroom contractor near me" that offers a wide range of professional remodeling services, including kitchen, bath and shower remodeling. To get started with a no-obligation consultation, call us at (903) 255-7111, or contact us online. We serve communities in Tyler, Swan, New Chapel Hill, Whitehouse and Noonday. We also serve Douglas, Arp, Troup, Bullard and Flint.