---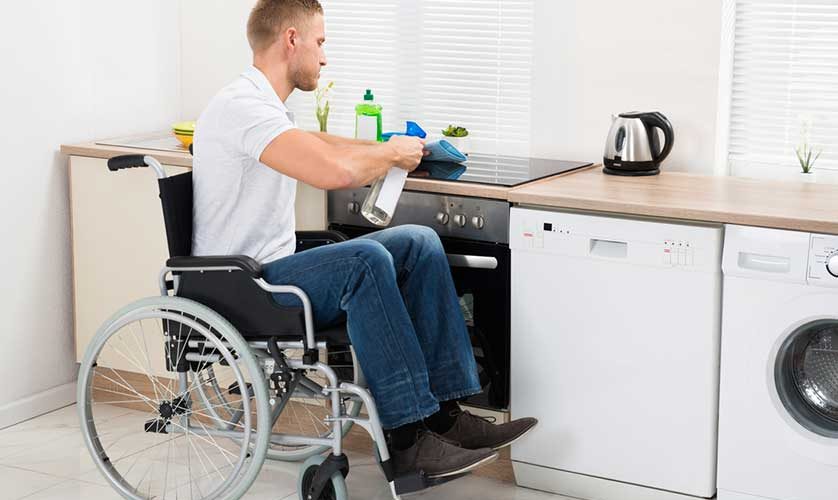 ---
Family members with limited accessibility are entitled to enjoy the same quality of life as the rest of the household. The best way to make sure of that is to have an ADA-compliant kitchen. In today's post, accessible remodeling contractor DreamMaker Bath & Kitchen of Tyler takes a look at the features of an ADA-compliant kitchen.
Key Features of an ADA-Compliant Kitchen
To ensure a consistent framework, the Americans with Disabilities Act (ADA) has set a few guidelines that allows builders and remodelers to create a safe and accessible space for the house's occupants. The idea behind ADA compliance is to make spaces that are accessible to all members of the household, regardless of accessibility limitations.
Countertops and work surfaces. ADA guidelines recommend a countertop that's 28 to 34 inches from the ground. Clear floor space should be 30 by 48 inches before each work surface to accommodate wheelchairs and other mobility devices.
Sinks and faucets. Choose a sink with a shallow basin, and the countertop lip must be recessed about 6.5 inches in. Faucets with lever handles allow easier operation for individuals with limited dexterity. Ideally, you should be able to turn such fixtures on and off with a closed fist.
Appliances. Oven, cooktop and dishwasher controls should be front or side-mounted, while cabinet and refrigerator doors should be side-opening. Refrigerators and freezers set at similar heights will allow users easy access to both compartments.
Cabinets and storage. Kitchen cabinets with pull-out shelves and drawers allow users to access and store items with minimal to no strain. As with fixtures, look for ADA-compliant cabinet hardware — many of these products are clearly labeled for it. For example, ADA-compliant drawer pulls typically have wider handles that allow one-handed operation that doesn't require a tight grip and with minimal wrist movement.
Planning Your ADA-Compliant Kitchen
One of the goals of any kitchen remodel is to build it according to your household's specific needs, which underlines the importance of planning in a project that needs to meet ADA guidelines. You don't have to be well-versed with ADA guidelines to make sure you have a compliant kitchen. As the trusted "kitchen remodeler near me" in the area, DreamMaker Bath & Kitchen in Tyler offers Independence by Design™ services, which allows our design professionals to create a kitchen space that takes safety and independence into account while ensuring quality that your home deserves.
Let's Start a Conversation!
DreamMaker Bath & Kitchen of Tyler offers a wide range of professional remodeling services, including kitchen, bath and shower remodeling. To get started with a no-obligation consultation and a detailed kitchen quote, call us at (903) 255-7111, or contact us online! We serve communities in Tyler, Swan, New Chapel Hill, Whitehouse and Noonday. We also serve Douglas, Arp, Troup, Bullard and Flint.