---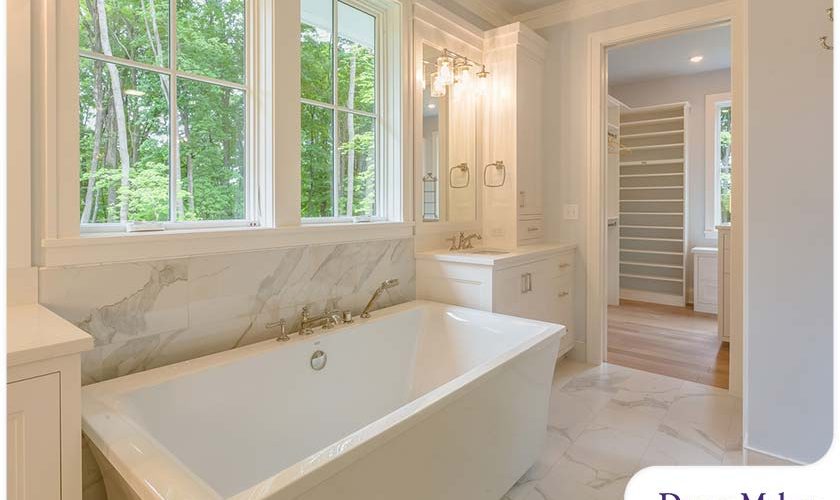 ---
During the design phase of your bathroom remodel, one of the things you need to prioritize is the layout. Although a marble countertop or statement tile may boost the aesthetic appeal of the bathroom, the layout determines its functionality and longevity.
DreamMaker Bath & Kitchen of Tyler shares the dos and don'ts every homeowner should consider when designing the ideal layout for your bathroom.
DOs
DO layer your lighting fixtures. Lighting is an important consideration in any part of the home, but more so in the bathroom. Bright overhead lighting may create shadows when you look in the mirror. A bright bathroom also lacks ambiance and makes it difficult to relax. Your contractor may recommend a layered design with several lighting sources. Concealed LED strips are a great choice and can be placed under vanities and cabinets as well as behind mirrors and shower niches.
DO create separate zones. If your bathroom is larger, creating separate zones can make your space more welcoming and enhance your bathing experience. One of the best ways to achieve this is by putting a stud wall in the center of the room that makes separate space for the bath, shower, vanity, and toilet.
DO incorporate seating. If there is an empty space in your bathroom, consider adding seating to your bathroom renovation plan. This can make your space feel more luxurious and relaxing. You may also want to include a side table next to the bath where you can keep a scented candle within arm's reach. For large bathrooms, try adding an ottoman or bench in the center of the room.
DON'Ts
DON'T have the door open to the view of a toilet. When you open the bathroom door, you don't want the toilet to be the first thing you see. When planning your layout, make sure it is tucked behind the door or the side where it's not in full view. The toilet should have a clearance of at least 8 inches on both sides for elbow room. Your main bathroom should also have a separate toilet so people don't have to wait when someone is using the shower.
DON'T confine the storage to the vanity. Many homeowners often only utilize storage in the vanity drawers and cabinets. The vanity then ends up looking cluttered, while the rest of the bathroom feels cramped and crowded. Vertical wall-hung cabinets are a great solution and can be used to incorporate mirrors and lighting to save even more bathroom space.
DON'T overlook existing infrastructure. Renovating your bathroom is your opportunity to update the layout of your bathroom. When creating a new layout, don't forget to set an appointment with your plumber to determine whether the new layout will work with the current plumbing and infrastructure points.
Let's Start a Conversation!
For your home remodel project, get in touch with DreamMaker Bath & Kitchen of Tyler. You can count on our team of design specialists to provide the highest standard service. We're as committed as you are to ensuring your project ends on a satisfactory note. Call us today at (903) 255-7111, or fill out our online contact form to schedule a conversation. We proudly serve homeowners in Tyler, Swan, New Chapel Hill, Whitehouse, Noonday, Douglas, Arp, Troup, Bullard, and Flint.