---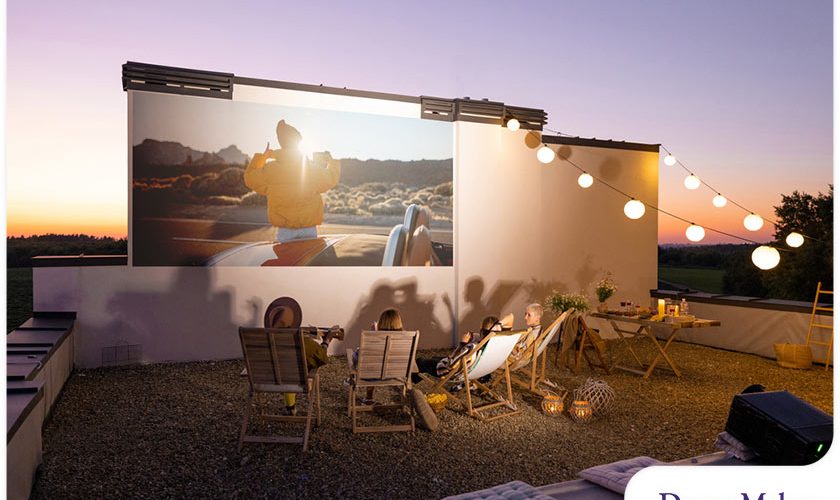 ---
With high-quality projectors becoming more affordable, a lot of people are thinking about taking their movie-watching outdoors. And with summer fast approaching, there is no better time than the present to get started on that dream outdoor theater. If this is something that sounds appealing to you, here are a few tips from an expert home renovation company on how to build an outdoor theater that is sure to be the envy of the neighborhood.
Outdoor Theater Essentials
The Projector
First things first: you're going to need a projector that can be used outdoors. We recommend a model with at least 2,000 lumens (the higher the better). HD resolution is also a must, especially if there's an avid gamer in the family. We also recommend a projector with mobile high-definition link (MHL) functionality so that you can connect a standard USB connector to any portable device. This eliminates the need for running a lot of wires.
The Screen
You can get away with projecting the picture onto a clean, white sheet or a light-colored wall. But if you are building the ultimate outdoor theater, splurge a little on a screen with cinema-grade material. There are a lot of great options, including screens that roll up when not in use, as well as screens that can be filled with air and then deflated afterward when you're done binge-watching your favorite show. Our interior remodeling pros recommend a screen size of at least 72 inches with a 16:9 ratio, but you can go as high as 150 inches, depending on the viewing distance.
The Sound
Of course, no home theater setup is complete without crisp audio. Most mid- to high-end projectors already come with speakers built in. If yours does not, you can try portable outdoor speakers with Bluetooth capability.
The Video Source
When it comes to video sources, consumers are spoiled for options. Netflix is the obvious choice but there are so many other good on-demand streaming services like HBO Max, Disney Plus, Hulu and Amazon Prime Video.
Let's Start a Conversation!
Whether you're itching to get started on a major home remodel or would simply like advice on how to set up the best outdoor home theater, turn to the pros at DreamMaker Bath & Kitchen of Tyler. We offer our expertise to homeowners in Flint, Bullard, Douglas, Swan and nearby areas. Give us a call today at (903) 255-7111 to schedule your free appointment or fill out our contact form and one of our friendly team members will get back to you as soon as possible.