---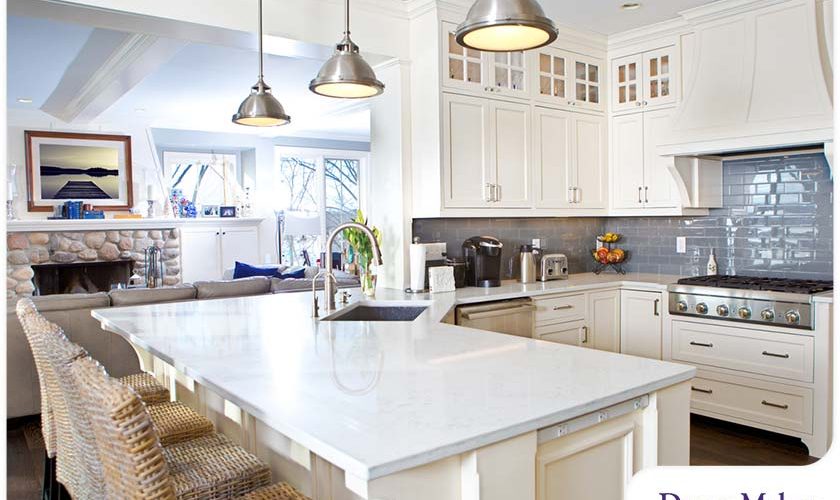 ---
One of the first things many homeowners ask kitchen remodelers is how to make their kitchen look and feel more open, especially when space is limited. Unless you can physically bump out your kitchen, you'll have to make some smart modifications to the design to achieve the kitchen that you want. Here are some ideas.

Go Easy on the Color
It might be tempting to use color to make your kitchen fit your personal taste, but too many colors can make your kitchen look and feel cramped. To make it look larger, limit your selection to one or two colors. This will also make it easier for you to achieve a coordinated look.

Choose White
Having trouble choosing a color scheme? An all-white scheme might just be what settles it for you. Choose white for the walls and also for cabinet refacing. If you want some contrast, add a bit of color with decorations or install a granite or wood worktop. An all-white kitchen is like a canvas that you can accent with color, but be careful not to overdo it. Refer to the first tip above.

Pay Attention to the Floor
To make your kitchen look longer, lay the flooring parallel with the length of the room. To make it appear wider, line up the boards parallel to its width. To achieve more length and width, lay tiles diagonally.

Increase Window Size
If you're planning to replace your windows, ask your contractor to increase the size of your window openings. Bigger windows let in more natural light that creates the illusion of a larger space. Instead of installing a decorative splashback, consider using windows as your splashback instead.

Draw the Eyes Up
This will work if your kitchen has a high ceiling. Build tall cabinetry or position cabinets higher. You can also add open shelves that make organizing and finding whatever you need easier. If you don't like open shelves, install cabinets with glass fronts. Glass fronts are reflective and add to the illusion of more size.

Organize
It doesn't matter what you do to remodel your kitchen if clutter is widespread. Take a page from Marie Kondo's book and keep everything in its place.

Let's Start a Conversation!
DreamMaker Bath & Kitchen of Tyler can make your kitchen remodeling dreams come true! Call us at (903) 255-7111 or tell us more about your project here. We work with homeowners in Swan, New Chapel Hill, Whitehouse, Noonday, Douglas, Arp, Troup, Bullard, Flint and many other communities.