---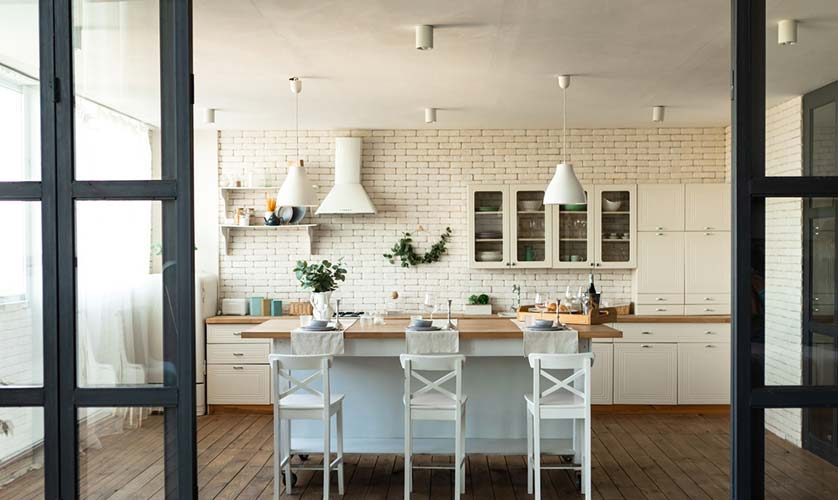 ---
The kitchen is often considered the heart of the home, a place where family and friends gather to cook, eat and share precious moments. An eat-in kitchen takes this concept to the next level, seamlessly blending the cooking and dining areas into one harmonious space. However, designing an eat-in kitchen that truly works requires careful planning and consideration.
In this article, DreamMaker Bath & Kitchen of St. Louis Park explores the key principles of creating a functional and stylish eat-in kitchen that suits your lifestyle.
Define Your Space
Before diving into the design process, assess the available space in your kitchen. Consider the layout and size of your room. Are you working with a small kitchen that needs to maximize every inch, or do you have a spacious area to play with? To ensure a reliable kitchen quote, your contractor must consider the measurements of your kitchen as this will influence the layout and features they can incorporate.
Choose the Right Layout
There are various ways to set up an eat-in kitchen. Be sure to choose a layout that suits your space and preferences.
Breakfast nook – A cozy corner nook with a small table and built-in seating is perfect for intimate family meals. It's ideal for small kitchens and creates a charming, casual atmosphere.
Island dining – In larger kitchens, consider adding an island with an overhang for barstools. This layout encourages interaction between the cook and guests and works well for quick meals or casual gatherings.
Banquette seating – A built-in banquette along one wall with a table in front is a space-efficient option. It provides comfortable seating, and you can customize it with cushions and storage beneath the benches.
Peninsula dining – Similar to an island, a peninsula extends from a wall or cabinet, offering a bar-like dining area. This setup creates a clear separation between the kitchen and eating space.
Open concept – In open-concept designs, the kitchen flows seamlessly into the dining area, allowing for a larger dining table. It's perfect for family gatherings and entertaining.
Ensure Adequate Seating
One of the critical aspects of an eat-in kitchen is having enough seating for your family or guests. Whether you choose stools at an island, benches in a nook, or chairs around a table, make sure there's ample seating to accommodate everyone comfortably.
Create Ambiance With Lighting
Effective lighting is essential in an eat-in kitchen. It sets the mood and enhances functionality. Combine ambient, task and accent lighting for a well-lit space. Pendant lights over an island or dining table, under-cabinet lighting and adjustable fixtures with dimmer switches are excellent choices.
Let's Start a Conversation!
DreamMaker Bath & Kitchen of St. Louis Park is a trusted local kitchen remodeler near me that can provide you with personalized remodeling solutions to bring your dream space to life. To request a consultation or a kitchen estimate, call us at (952) 522-3008 or fill out our online form. We serve homeowners in Minneapolis, St. Louis Park, Whitebear Lakes, Stillwater, Afton, Sunfish Lake and surrounding communities.