---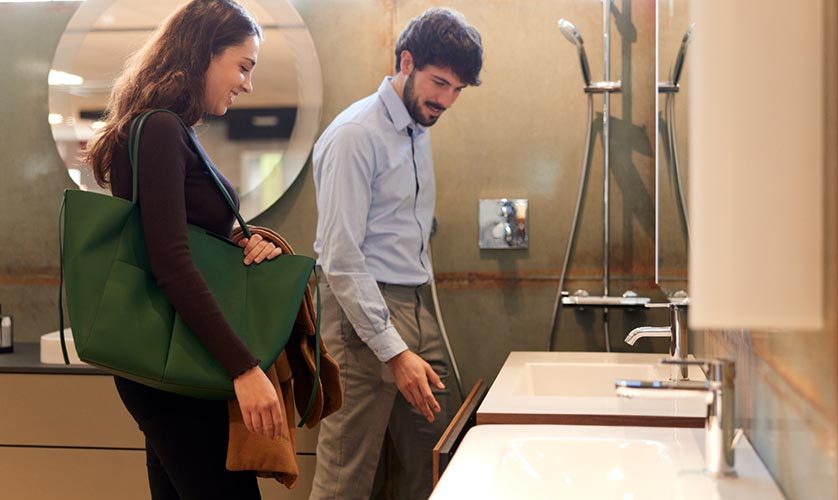 ---
Embarking on a bathroom remodeling project is an exciting journey! It's an opportunity to transform a functional space in your home into a personal sanctuary. As a homeowner, you want to make sure your vision comes to life just the way you imagine it. That's where setting clear and achievable goals becomes crucial. In this post, DreamMaker Bath & Kitchen of Orland Park's bathroom quote experts will show you how to set attainable objectives that can give you your dream bathroom.
Establish Your Vision and Create a Concept
Start by getting inspired! Browse through magazines, catalogs and websites or watch home design shows. Make a vision board with all of your ideas and inspirations for your bathroom design. Compile entries from all sources.
Frame Your Goals
With your concept in place, it's time to start setting your goals. Ask yourself, "What do I want to get out of this project? What kind of space do I want to live in? What sort of lifestyle changes can a remodel bring?" This will give you a better idea of the areas you want to focus on.
Prioritize Your Goals
Like the total bathroom cost, not all goals are created equal. Determine which objectives are most important to you. List your "must-haves" and "nice-to-haves." Determine which ones are worth splurging or saving on. This will help you prioritize how to allocate your resources and budget.
Examples of Typical Remodeling Goals
Bathroom remodeling goals are usually centered around creating a luxurious, safe, comfortable and inviting space. Examples of popular goals include:
Maximizing the use of available space. This can include features such as built-in furniture, storage units and efficient fixtures, as well as utilizing natural lighting.
Enhancing natural light. Maximizing natural light through the use of skylights, windows and fixtures can help make the space brighter and more inviting. Additionally, it can also reduce the need for artificial lighting and save energy costs.
Enhancing existing design features. Update fixtures, create custom cabinets and explore unique materials. This helps tie the entire room together and create a cohesive, aesthetically pleasing space.
Improving safety and functionality. This involves updating fixtures, enhancing accessibility and adding features such as anti-slip tiles and grab bars. Taking steps to address any mobility issues or potential hazards is essential when planning a bathroom remodel.
Creating a focal point. Adding a design element to draw the eye, like a tile mural or a large, decorative mirror, can help bring the entire look of the bathroom together.
Achieving a luxurious look and feel. Luxury features such as heated floors, towel warmers and spa-like fixtures can help to create a spa-like ambiance in the bathroom. Incorporating premium materials such as marble, tile and glass can also add to the overall atmosphere of indulgence and relaxation.
Prioritizing aesthetics and design. Achieving aesthetic and design goals ensures that the space is a reflection of the homeowner's personal style while prioritizing functionality ensures that all elements work together cohesively for an enhanced user experience.
Let's Start a Conversation!
You don't have to look up "bathroom remodeler near me" online with DreamMaker Bath & Kitchen of Orland Park. Known for our one-on-one attention and commitment to delivering designs tailored to your specific needs, we are dedicated to making your remodeling dreams come true. Be one step closer to your goal of a beautiful and functional home today by calling (708) 578-6832 or filling out our contact form. We serve homeowners in Palos Heights, Frankfort, Mokena, Tinley Park and Homer Glen.