---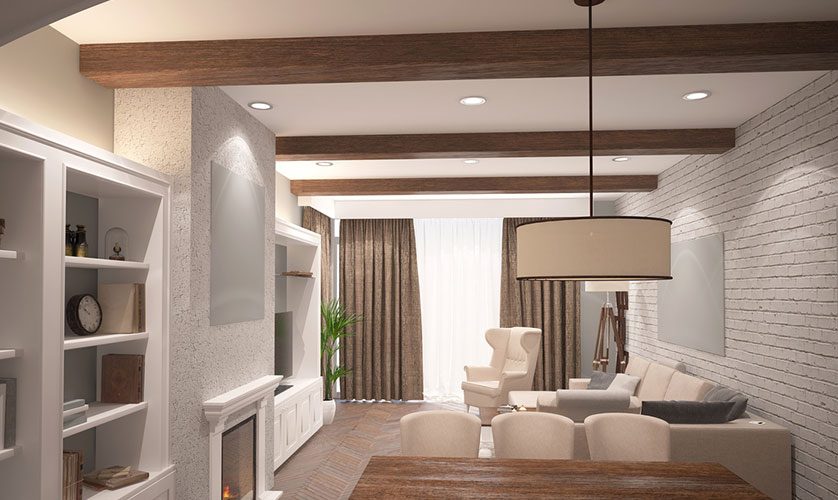 ---
High ceilings can truly elevate the look and feel of a room, creating a sense of spaciousness and luxury. But what if your home isn't blessed with them? Don't worry! With a few clever design tricks from renowned local general contractor DreamMaker Bath & Kitchen of Orland Park, you can create the illusion of higher ceilings in any space.
Paint Your Ceiling Lighter Than Your Walls
To create the illusion of a higher ceiling, paint it with a color that's a shade lighter than your walls. It can make a space feel more open and expansive, drawing the eye upwards. Consider using a color that complements your walls and the decor of the room. Just remember to keep it lighter and brighter. Even a color that's just a few shades lighter can work wonders.
Incorporate Vertical Lines and Patterns
Incorporating vertical lines and patterns in your interior design can also give the impression of a taller ceiling. Whether it's wallpaper, paneling or even artwork, vertical lines will guide the eye upwards, creating a sense of height. Tall bookshelves or floor-to-ceiling built-ins can also enhance the effect. Your home remodeler may also provide helpful recommendations that can make your ceilings taller.
Choose Low Furniture
Selecting low-profile furniture is another trick to make your ceilings appear higher. Furniture pieces standing on short legs will create more space between them and the ceiling, creating that illusion of height. Look for sofas, chairs and beds that sit lower to the ground. Avoid bulky, oversized pieces that can make the room feel cramped.
Utilize Floor-to-Ceiling Curtains
Floor-to-ceiling curtains are a fantastic way to give the illusion of height in a room. Hang the curtains from the ceiling rather than just above the window. This creates a continuous vertical line that can make the ceiling appear higher. When choosing curtains, opt for a length that just grazes the floor. Be sure to pick a style that complements the rest of your decor.
Use Recessed Lighting
Recessed lighting can make a ceiling seem higher. Install flush-mounted lights. This eliminates the need for hanging fixtures that can make a room feel more closed-in. When selecting recessed lighting, consider the size of the room and determine the amount of light you require to create a comfortable atmosphere.
Let's Start a Conversation!
Ready to transform your home interiors? Turn to the trusted home renovator in the area, DreamMaker Bath & Kitchen of Orland Park! We take a personalized approach to every remodeling project, focusing on your lifestyle and needs to create the most effective design solutions. Call us at (708) 578-6832, or fill out our contact form to schedule a consultation. We serve homeowners in Frankfort, Mokena, New Lenox, Homer Glen and Palos Park.