---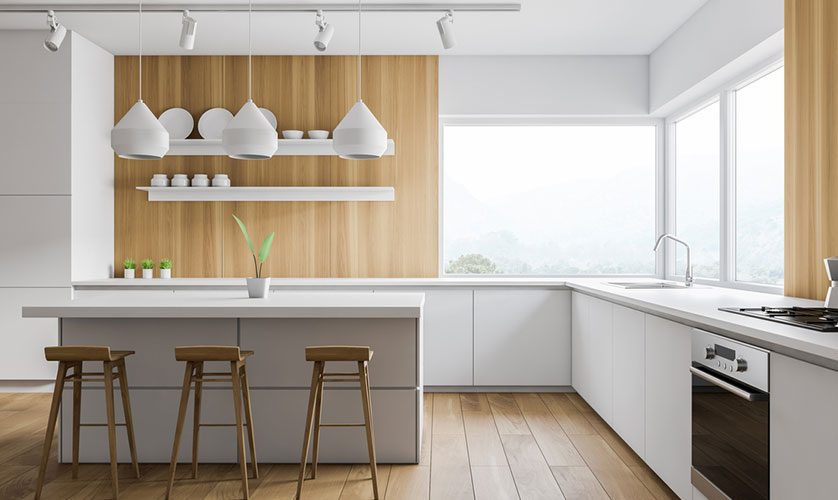 ---
Are you tired of a cluttered, overwhelming kitchen? It might be time to consider a minimalist kitchen design. It looks sleek, exudes a modern vibe, and promotes efficiency and a sense of calm in your home. In this post, top kitchen remodel company DreamMaker Bath & Kitchen of Orland Park will provide you with some practical tips on how to design your dream culinary space.
Planning a Minimalist Kitchen Remodel
Start by assessing your current space to determine your needs and preferences. Identify areas that could benefit from simplification. Take the time to declutter your kitchen. Find any pain points in your current layout. Once you have a clear understanding of what works and what doesn't, consult with a professional kitchen remodeler. They can guide you through the design process and help you make informed decisions.
Choosing the Right Colors and Materials
Minimalist kitchens often feature a neutral color palette. Incorporate shades of white, gray, black or beige. Keeping your color palette simple allows for a clean and cohesive appearance. Natural materials, such as wood, stone or concrete, also play a significant role in achieving a minimalist design. When selecting materials for your kitchen renovation, make sure various textures and finishes are well-balanced to create visual interest without feeling too busy.
Maximizing Storage and Functionality
A practical minimalist kitchen maximizes storage and functionality. Hidden storage solutions, such as pull-out pantries or built-in cabinets, are recommended. They help keep your kitchen clutter-free and easy to navigate. Multi-functional appliances and furniture can also contribute to a minimalist aesthetic by reducing the need for multiple devices and items.
Incorporating Minimalist Lighting and Fixtures
Minimalist lighting options and fixtures play a crucial role in establishing a sleek and modern ambiance for your kitchen space. Choose simple, streamlined designs for your lighting fixtures and make sure they are in harmony with the rest of the kitchen elements. Opt for minimalist hardware on your cabinets and drawers and focus on functionality without compromising style.
Minimalism Beyond Kitchen Design
Minimalism doesn't only apply to your kitchen. It also involves making conscious decisions to keep your home less cluttered. Adopting a minimalist mindset means recognizing what items are essential and what items can be discarded.
Some simple tips include using the CLAYGO (Clean As You Go) methodology in the kitchen. It also means buying items with a specific purpose in mind. Getting rid of anything that isn't used or enjoyed is also part of a minimalist mindset, which is about making your life as simple as possible.
Let's Start a Conversation!
By following these tips and working closely with a professional home remodel contractor, you can create the minimalist kitchen of your dreams. For expert assistance, turn to DreamMaker Bath & Kitchen of Orland Park. Call (708) 578-6832, or fill out our contact form to schedule a conversation. We proudly serve homeowners in Orland Park, Tinley Park, Frankfort, New Lenox and Palos Heights.