---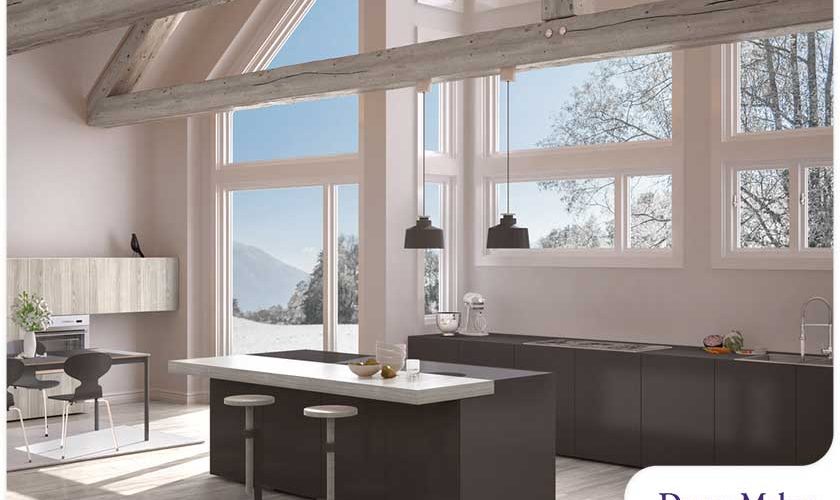 ---
One design trend that's gaining traction today is mountain contemporary. The name suggests deer heads, bear rugs and log furniture, but what you actually get are rustic and modern elements blended into a neater whole. If you are interested in incorporating this style into your kitchen renovation, DreamMaker Bath & Kitchen of Orland Park, the area's premier home remodeling company, has you covered. Here's a quick look at some of the key element of mountain contemporary kitchen design.

Use a blend of wood and stone elements. This particular design trend pays homage to mountain living, so you should integrate a considerable amount of wood and stone. One of the simplest ways to do this is by pairing natural stone countertops with wood cabinets. Wood floors, stone backsplashes and exposed rafters help complete the look.
Keep the space clean. A mountain contemporary kitchen focuses on clean lines and an uncluttered layout. It will have tall ceilings and large windows that maximize the outdoor view and give the space an airy, relaxing vibe. Mountain contemporary design also skips smaller decorative items in favor of large, interesting pieces that allow for an instant focal point, while reducing visual clutter. Consult your trusted local kitchen remodelers about how you can effectively pull all design elements together.
Focus on increasing access to natural light. One of the biggest factors in mountain contemporary kitchen design is natural light. If your own kitchen has few windows, you should consider adding larger windows. This way, more sunlight can stream into the space, giving it a spacious feel. More natural light also means less reliance on artificial lighting during the daytime which, in turn, translates to greater energy savings.
Texture matters more than color. Mountain contemporary kitchens are all about soft, muted colors that are found in nature, such as beige and gray. But what's more important is texture. This kitchen design trend emphasizes smooth glass, chunky woodwork, rough stone and textured concrete that make it seem like these building materials are actually part of the décor — and in a way, they are.
Don't forget about lighting. Illuminating your mountain contemporary kitchen in the daytime is easy: sunlight is all you need. But you'll need something different once it gets dark out. When incorporating mountain contemporary design in your kitchen remodeling project, don't overlook lighting. Set the mood in the space with the right pendant or lantern. Fixtures with a black finish create a cozy, rustic vibe, but if you prefer something modern, metallic finishes such as copper and brass will do.
Design Your Dream Kitchen With DreamMaker
When you want to transform your kitchen into a mountain contemporary masterpiece, turn to your premier home remodeling contractor, DreamMaker Bath & Kitchen of Orland Park, for the job. Our service areas include Palos Heights, Frankfort and Homer Glen. Call us today at (708) 320-3417 or fill out this contact form to schedule your consultation.