---
---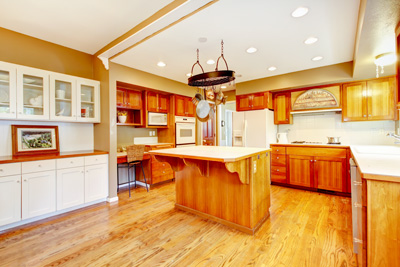 Are you considering a kitchen remodeling project for your home in Roy, Utah? If you're interested in updating your kitchen, you may want to replace your current floors. As with any home remodeling venture, it's important to pick the right material for the job. While many homeowners shy away from hardwood flooring during kitchen and bathroom renovation for fear of future water damage, wood actually makes an excellent addition to both of these spaces. Before discounting this option completely, it's worth talking to your contractor. To help ensure you make the right decision, consider the following reasons why hardwood floors may be perfect for your kitchen remodeling project in Roy.
Easier to Protect than You Think
It's actually easier to protect hardwood from water damage than you think. Talk to your contractor about how this can be done for your Roy kitchen remodeling project.
It's Beautiful and Makes a Statement
Hardwood makes a beautiful addition to kitchen remodeling in Roy. You'll love its timeless appeal and ability to make a statement.
Hardwood Increases Your Resale Value
Whether you plan to sell your home soon or not, it's always smart to invest in it. Installing hardwood floors during your Roy kitchen remodeling project will increase the value of your home.
Interested in Hardwood Flooring for Your Roy Kitchen Remodeling Project?
Do you think hardwood floors are right for your kitchen? If you're ready to start your kitchen remodeling project in Roy, it's time to speak with a professional. For expert remodeling, renovation, and general contracting assistance, contact DreamMaker Bath & Kitchen of Ogden today. Visit our website to learn more about our company and the many services we offer. Do you have questions or are you ready to schedule an appointment? You can reach us directly by calling (385) 389–1116. We can wait to make your Roy kitchen remodeling dreams a reality!
Roy Kitchen Remodeling
Serving the communities of North Ogden, Plain City, West Point, West Haven, Pleasant View, Farr West, Marriott-Slaterville, South Ogden, Ogden, Eden, Huntsville, Mountain Green, Peterson, Morgan, South Weber, Roy, Hooper, Clinton, Sunset, Clearfield, Syracuse, Layton, Kaysville, Farmington, Centerville, Bountiful, North Salt Lake, Park City.