---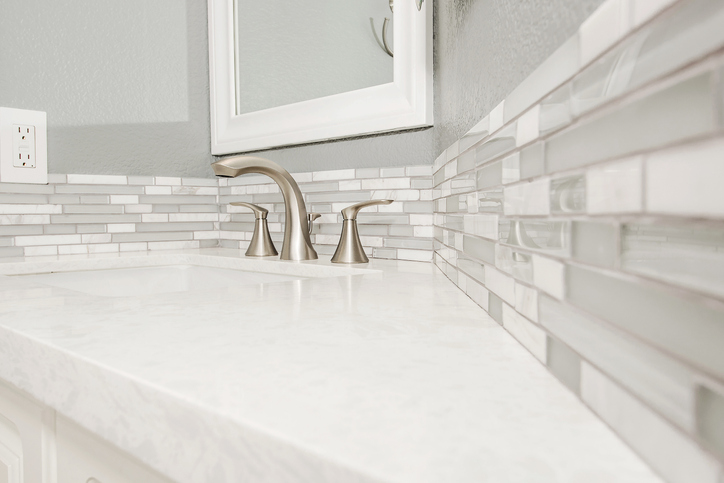 ---
Countertops come in a wide range of materials and colors. However, aside from appearance, there are other things you need to consider when it comes to choosing a countertop. Bathroom upgrades like this, when done right, can significantly boost your home's value and appeal. Here's what to consider when choosing countertops for your bathroom.

What Are My Options?

Granite – There are more cost-effective options for granite today. This material offers better heat and wear resistance than laminate. However, keep in mind that granite requires sealing to stop grease, which can be found in various hair and bath products.
Laminate – Due to its versatility, laminate is a popular option for vanities. This economical material withstands water and stains but is prone to burns and dents.
Solid Surface – Quartzite options are very durable and easy to maintain. Fine-grade sandpaper will easily remove scratches.
Tile – Tile comes in various colors, patterns and finishes. However, this material requires regular cleaning and regrouting every few years.
Wood – Wood is a porous material, meaning it's more vulnerable to water damage and rot. Still, wood can make your space feel warmer and more welcoming.
What Factors Do I Need to Consider?

Looks – In your bathroom remodeling project, you can mix and match different countertop colors, patterns and textures. Visit design centers or showrooms and check out your options, and make sure to get samples of styles that you like. For ideas and inspiration, you can also visit home improvement websites like Houzz and Pinterest.
Maintenance – Make sure that you know how to maintain your countertop material of choice. Are you willing to exert a little more effort for maintenance or do you prefer materials that don't require care? For instance, you need to regularly clean grout if it's very light and soapstone needs to be polished regularly to keep it shiny. Countertop materials that need more care work well in guest bathrooms since they aren't used as much.
Function – Bathroom countertops are mainly used for storage. The size of your countertop should be large enough for your bathroom products and tools.
Let's Start a Conversation!
DreamMaker Bath & Kitchen of Ogden is one of the area's most trusted bathroom remodel contractors. Let our experienced team help you plan, design and build the ideal bathroom for your lifestyle and budget. Call us at (801) 436-8886 or fill out our contact form to start a conversation with our design experts. We work with homeowners all along the Wasatch Front.