---
---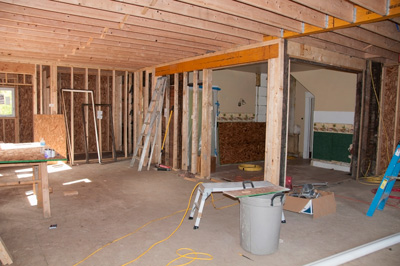 Is it time for a home remodeling project in Layton, Utah? If you're preparing for a renovation, there's a lot to consider before calling a contractor. Don't let your to-do list keep you from starting, however! Whether you're planning a bathroom update and kitchen remodel, follow the steps below to ensure you're ready for home remodeling in Layton.
Envision Your Space
When preparing for home remodeling in Layton, the first step is to envision the changes you'd like to make. Spend time carefully considering your space and the best ways to improve it.
Draw Your Plans
Once you've spent time creating a clear image of your new space in your mind, put it down on paper. When it comes time to start your home remodeling project in Layton, a diagram, no matter how simple, will be helpful for your contractor
Secure a Permit
While not all home remodeling projects in Layton will require a permit, it's important to check first. If the plans you have in mind will impact the structure of your home, there's a good chance you'll need a permit.
Ready for Your Home Remodeling Project in Layton?
Are you ready for your upcoming home remodeling project in Layton, Utah? If you've drawn out plan, it's time to speak with a professional contractor. Don't settle for less than excellent remodeling services. Contact DreamMaker Bath & Kitchen of Ogden, Utah, for expert advice, quality workmanship, and above average customer care. Our highly-trained and experienced specialists are prepared to tackle any size project, regardless of complexity. For more information about our company and the services we offer, including renovations and general construction, visit our website. You can also call (801) 476–4222 to speak with one of our helpful representatives. We can't wait to hear about your home remodeling plans in Layton!
Layton Home Remodeling
Serving the communities of North Ogden, Plain City, West Point, West Haven, Pleasant View, Farr West, Marriott-Slaterville, South Ogden, Ogden, Eden, Huntsville, Mountain Green, Peterson, Morgan, South Weber, Roy, Hooper, Clinton, Sunset, Clearfield, Syracuse, Layton, Kaysville, Farmington, Centerville, Bountiful, North Salt Lake, Park City.