---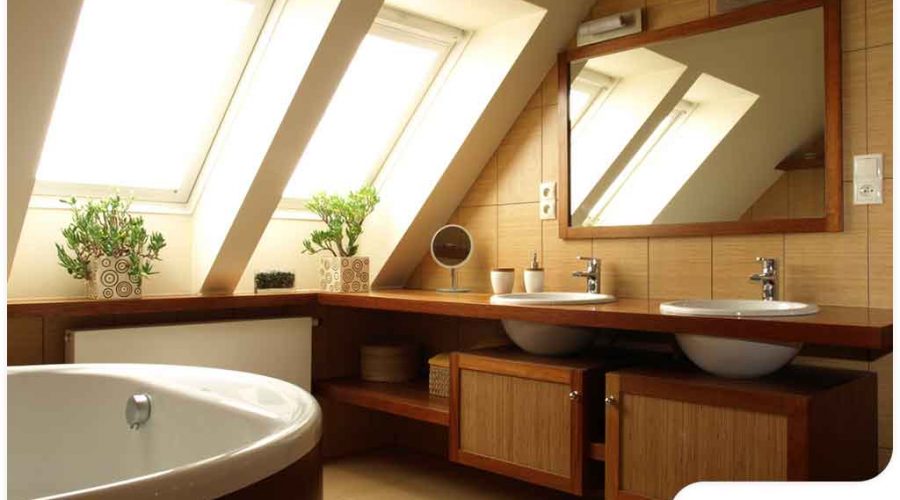 ---
The attic is often used for storage but there are more practical ways to make use of this available space, one of which is converting part of it into a bathroom. Keep in mind that an attic bathroom remodel isn't as straightforward as converting the attic into a bedroom or home office, but if you're mindful of certain considerations, the project is sure to be a success.

Local Building Code Requirements

Requirements may vary, but local building codes generally require finished attics to have at least 70 square feet of floor space. As for the minimum ceiling height, at least half of the finished attic's floor space should have a ceiling height of at least 7.5 feet.

How can you tell if your attic has enough floor space at first glance? Your roof's framing should give you an idea. If your roof has attic trusses, your attic probably has enough space. Unlike conventional trusses, attic trusses don't need webbing or substantial structural support and don't take up as much space. Of course, the best way to tell if there's enough space in your attic is to have bathroom contractors inspect it.

Expanding Headroom in Your Attic Bathroom

If you want to increase the headroom in your attic to add a vanity, you can install skylights. Skylights cut into your roof's rafters, freeing up headroom to reduce the risk of bumping into the ceiling.

The Distance Between New Plumbing & Existing Pipes

The farther the attic bathroom's plumbing is from your home's existing pipes, the harder and more expensive the attic conversion will be. That's why it's best to locate your attic bathroom above another bathroom or the kitchen. Doing so minimizes the distance between new and existing pipes.

Adequate Attic Floor Support

There's also the issue of whether the attic floor will be able to support the additional weight of a bathroom. Given that most attic floors aren't designed to handle extreme weight loads, you may need to have a contractor reinforce your attic's structural support.

Soundproofing

Noise coming from the attic tends to reverberate throughout the home. One way of reducing sound transmission is to install dense blown-in insulation. To learn more about your other soundproofing options, consult a professional remodeler.

Let's Start a Conversation!
DreamMaker Bath & Kitchen of Ogden offers a wide range of professional remodeling services, including kitchen, bath and shower remodel services. To get started with a no-obligation consultation, call us at (801) 436-8886 or leave us a message online! We serve homeowners in Ogden, UT, as well as the surrounding communities of Kaysville, Farmington, Centerville, Bountiful, North Salt Lake, Park City, South Salt Lake and Millcreek.