---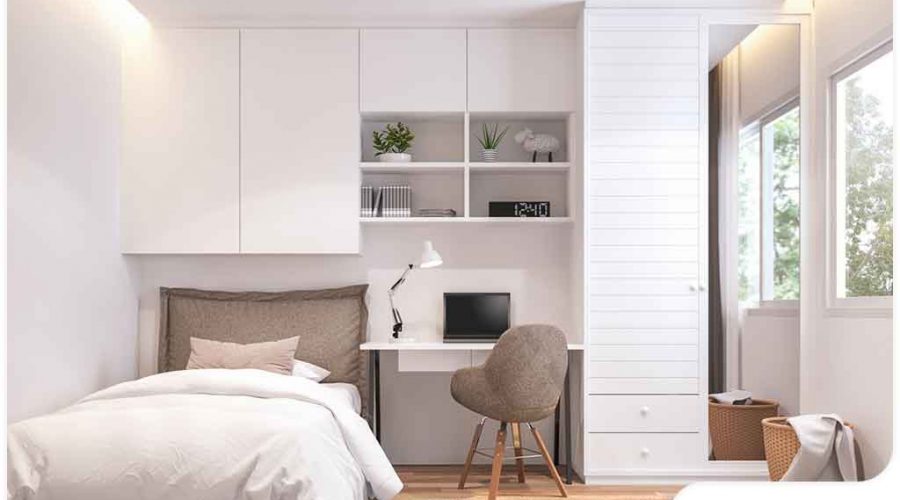 ---
A bedroom is meant to be a relaxing place. However, it can be difficult to determine where to place everything when you're working with limited space. Fortunately, there are various ways you can make your small bedroom feel more spacious. Here are design tips for small bedrooms from our trusted home interior and bathroom contractors.

Accentuate the Bed Wall

Make the bed wall the focal point of your bedroom to add more character and take the focus off of the small room size. You can paint the wall with a bold color, create a mural or use wallpaper. Consider unique decorative elements such as painted wooden window shutters or a bright-colored iron panel.

Embrace the Dark Side

Whites and neutrals aren't your only option for the walls of a small bedroom. Painting your walls a light color will make your space look brighter and more spacious. However, a room with navy blue, charcoal gray or olive green walls can appear very modern and stylish.

The More Light, the Better
As with a kitchen or bathroom remodel, good lighting is a key factor in designing bedrooms. Having more light sources in the room will prevent it from feeling claustrophobic. You can add decorative lighting like a pendant or chandelier. Bedside lamps and reading sconces will also help brighten your space.

Make Magic With Mirrors

There are no rules when it comes to mirror placement. You can hang one above your headboard or floating dresser. Mirrors will reflect natural light that enters your room and create the illusion of more space.

Consider Multi-Purpose Furniture

In the bedroom, a day bed can act as both a seat and a bed. Some designs even have a pullout bed for family and friends who are staying over. Instead of getting a separate nightstand, place a dresser beside your bed.

Design Your Dream Home With DreamMaker
When you're ready for a bedroom remodel, you can rely on DreamMaker Bath & Kitchen of Ogden. Call us at (801) 436-8886 or fill out our contact form to start a conversation with our design experts.