---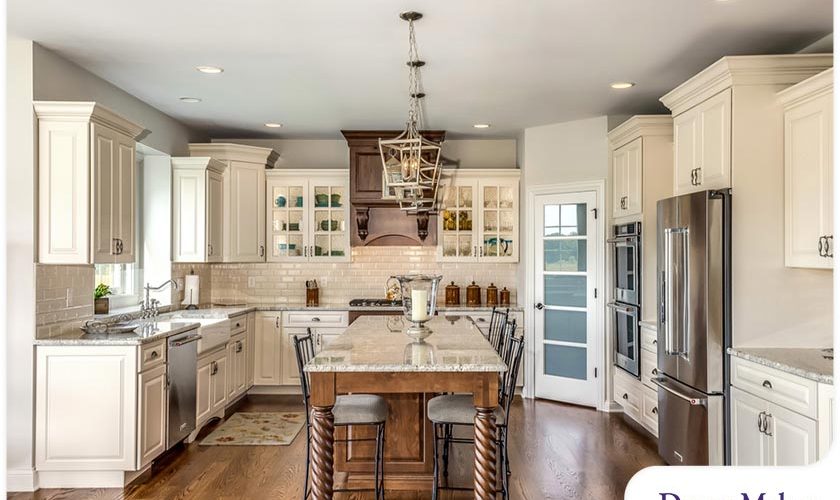 ---
A U-shaped kitchen, also called a horseshoe kitchen, is a kitchen layout that features three connected walls of cabinets along with an open end for the entrance. Often found in homes with larger kitchens, it helps facilitate access as meals are being prepared. "Kitchen remodeler near me" DreamMaker Bath & Kitchen of Hollywood discusses the pros and cons of a U-shaped kitchen here.
Pros
It's great for a big family. If you have a growing family, a U-shaped kitchen is an excellent layout to consider for your home. It provides uninterrupted access to work areas when two or more people are using the kitchen at the same time.
It's organized. Because a U-shaped kitchen has three connected sides, the countertops can easily be divided into work zones.
It minimizes foot traffic. With a U-shaped layout, the disruption to the flow of work in the kitchen is significantly minimized. The distance between the refrigerator and stove is also reduced, facilitating smoother workflow.
It offers a lot of counter space. In a U-shaped kitchen, three walls have countertops while one side is left open to grant access to the rest of the home. You can also build a freestanding island that offers not only extra counter space but also storage and seating. A kitchen quote from a trusted remodeler can help you get an idea of which features to add to your kitchen design.
Cons
It requires an open-concept floor plan. An open-concept floor plan is commonly found in modern homes. But if your kitchen is not already designed with this type of layout, incorporating a U-shaped kitchen can be challenging. Without enough square footage, it can become congested.
It is not ideal for larger kitchens without an island. If you're fortunate to have a spacious, airy kitchen, you have to maintain the kitchen work triangle by adding a kitchen island.
It has corner cabinets that can be difficult to reach. Since a U-shaped kitchen has two corners in the space, it is crucial that you maximize your storage options. Corner cabinets with a built-in turntable can take advantage of those areas that once used to be difficult to reach.
Let's Start a Conversation!
DreamMaker Bath & Kitchen of Hollywood specializes in bathroom and kitchen remodeling solutions. Whether you need to design and build the layout of your space or reface cabinets and replace floors, our skilled team has you covered. Call (305) 425-1700 or fill out our online form to get a bathroom or kitchen estimate. We work with residents of Hollywood, Hallandale Beach, Pembroke Pines, Miramar and other nearby communities.