---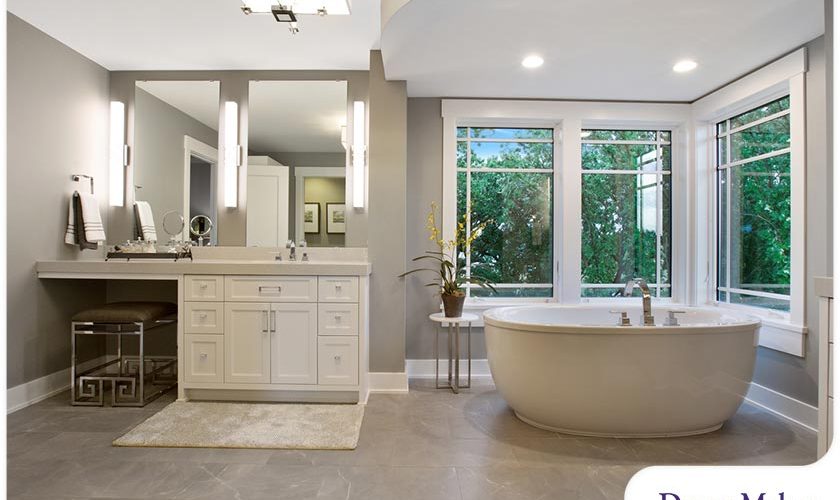 ---
A well-planned bathroom renovation should strike a balance between aesthetics and functionality. Deciding how and where you want the entrances, windows, and other elements located in your bathroom affects the room's overall functionality. Fortunately, your remodeler will help you with guidelines to ensure a good bathroom layout.
In this post, home remodel contractor DreamMaker Bath & Kitchen of Elizabethtown lists some do's and don'ts to guide you when planning your bathroom layout.
Bathroom Layout Do's
Focus on Storage
When designing your bathroom layout, the function should have the same priority as aesthetics. This way, you'll have enough space for your daily necessities. Other than the standard vanity drawers and cabinets, there are numerous storage options to consider. Custom cabinetry, for example, can be added to store large items. You can also incorporate mirrors, towel bars, and lighting into vertical wall-hung cabinets to save more space.
Use Layered Bathroom Lighting
The placement of your bathroom lighting can also have an impact on the room's layout and overall design. That's why you should plan your lighting design thoroughly. Layering bathroom lighting should be part of your bathroom remodel. With concealed LED strips, you can add ambient lighting and create your desired mood. You can install these lights under your vanity or shaving cabinet, behind a mirror, or in shower niches. You can also use windows to let natural light stream through your bathroom during the day.
Create Zones
Bathrooms with enough floor space can be more inviting and functional if you divide them into zones. For example, you can separate the shower, vanity, and toilet with a stud wall.
Bathroom Layouts Dont's
Installing the Toilet Facing the Door
Nothing is more unattractive than walking into a bathroom and seeing the toilet the moment you open the door. Place it behind the bathroom entrance or on the side of the vanity so that it is not immediately visible upon entering the room.
Not Considering the Location of Accessories
The placement of accessories such as towel bars will impact how the entire space functions. Be sure to install structural supports before the walls are finished so that accessories are mounted properly.
Getting the Measurements Wrong
To ensure a successful bathroom renovation, make sure your bathroom measurements are correct. One thing to remember is the distance between the door and the sink. Ensure your bathroom door does not hit the toilet every time you open it. To avoid such mistakes, you can ask your remodeler to measure everything twice to be sure.
Overlooking the Flooring
It's easy to overlook your bathroom's flooring, but it's a big part of the room where you can make a statement. Patterned floor tiles with large, bold prints will make your bathroom stand out and breathe new life into the space.
Let's Start a Conversation!
DreamMaker Bath & Kitchen of Elizabethtown can meet all your remodeling needs. Our skilled team of professionals can efficiently transform your current bathroom into a more gorgeous and functional space. Call us at (717) 452-4942 or fill out our contact form to schedule an appointment. We serve clients in Elizabethtown, Hershey, Mount Joy, Lancaster, Harrisburg, and other surrounding areas.