---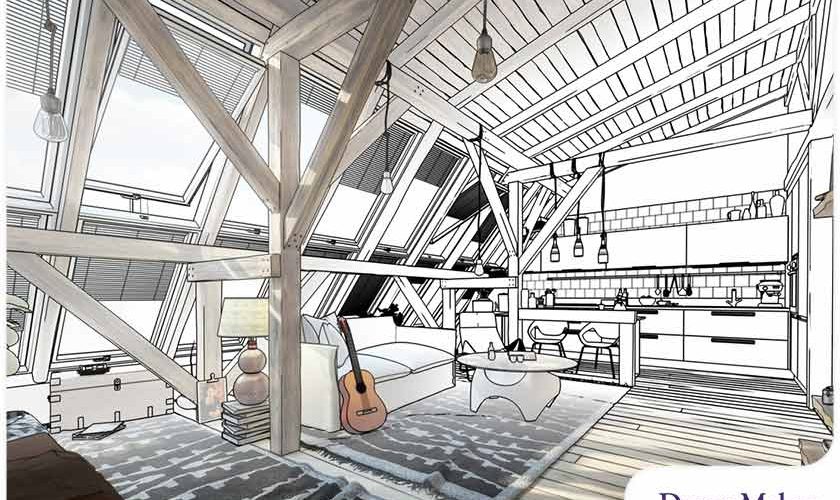 ---
Whether your growing family is stretching the boundaries of your home's current square footage or you simply want to take advantage of a killer view, remodeling the attic is a terrific option to reclaim space without having to tear down walls and build out. To get your desired results, start by working with a reliable team of home renovation experts. Here's a look at the key considerations and ideas for your attic remodeling project.
Important Considerations to Keep in Mind
Your goal for your finished attic space will depend on several factors, including the following:
Roofing system. The size of your finished attic space may be enough, but you must ensure that the roof directly above it is in good condition. A thorough inspection helps identify signs of rot, deterioration and anything that points to the structure requiring immediate attention. Whether your roof needs repairs or replacement, take it as an opportunity to tackle attic upgrades. If the space isn't tall enough, it may need additional renovation to raise the roof.
Electrical and plumbing systems. Turning your attic into a living space means it needs to have the same utilities as the rest of your home. If you plan to add a bathroom, find out if there's existing plumbing running near the attic floor. Also, check if the attic has electrical components that will allow you to install adequate lighting and ventilation. As for comfort, you may consider installing a ductless mini-split HVAC system. Just make sure that there is a higher-capacity connection to your house's main panel to accommodate the attic's electrical load.
Remodeling Options for Your Attic Space
Turning your attic into a functional space helps increase not only your home's current square footage but also the overall value of your property. And the good news is that the ways to use it are virtually limitless. Here are some ideas to consider for your home remodel:
Guest room. Turning your attic into a guest room doesn't cost as much as building a detached dwelling. To make sure it counts as a bedroom in accordance with local building codes, it should have a ceiling height of at least seven feet for at least half of the space, with at least 70 square feet of floor space and at least two means of egress.
Home office. The attic is a perfect fit for a home office for several reasons. For one, you may get a larger area than you would get by converting a bedroom. The fact that it is separate from the rest of your home means less disruptions to help you be more productive.
Let's Start a Conversation!
Count on DreamMaker Bath & Kitchen of Elizabethtown for all of your interior remodeling needs. Call us today at (717) 452-4942 or fill out our contact form to schedule an appointment. We are proud to serve homeowners in Elizabethtown, Hershey, Mount Joy, Lancaster, Harrisburg and surrounding communities.