---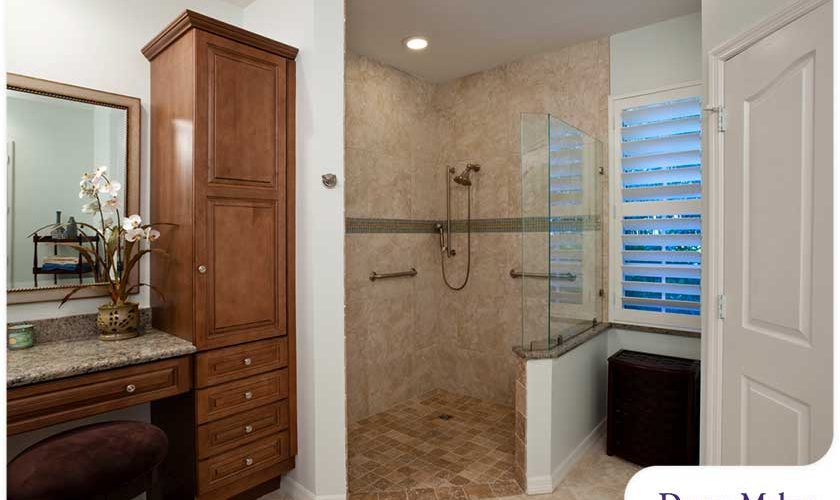 ---
When it comes to interior remodeling for aging in place, it helps to apply universal design to ensure you choose the right features for your home. Universal design is a concept that helps make interiors safer and more accessible to anyone, regardless of age or ability. If you're hesitant to ask for a kitchen or bathroom quote because you've heard a few myths surrounding universal design and accessible remodeling, we're here to explain the truth behind these misconceptions.
Common Myths
Myth: Accessible Homes Require More Space
Truth: You don't necessarily have to add on to make mobility modifications. If you think that your kitchen sink needs to be accessible to someone using a wheelchair, just consider removing the base cabinets below it and/or adding ramps for easier access. You can even use portable ramps instead of building permanent ones, depending on your individual needs. Another example is thinking that you have to expand your entry door to accommodate a family member who uses a wheelchair. If you only need a bit more space, consider swing-away hinges so that you get a wider clearance in the doorway.
Myth: Accessible Remodeling Is Expensive
Truth: Mobility remodeling is hardly different from a conventional remodeling project, especially with more people choosing to remodel their homes to improve their future lifestyle. It can be as simple as choosing the right hardware for your doors and windows. For instance, you'll have many options when choosing doorknobs. However, a lever-style handle can be more accessible than a conventional doorknob for people with a broken wrist, arthritis or even just someone who has their hands full.
Myth: You Don't Need Accessible Features in Your Remodel
Truth: Many homeowners think that they can hold off on adding accessible features to their remodel because they don't need them now. They may think that it will make their interior look like a hospital or nursing home. But as a homeowner, you should know that universal design and accessible remodeling benefits everyone, even if they don't have physical limitations.
Myth: Accessible Features Reduce Resale Value
Truth: Accessible features can be a big draw. A good number of potential buyers likely have a family member or know friends with disabilities, so they understand why accessibility is important in any home.
Design Your Dream Home With DreamMaker
If you're searching online for a "home remodeler near me" to handle your accessible renovation project, you can count on the services of DreamMaker Bath & Kitchen of Elizabethtown. Call us today at (717) 452-4942 or fill out our contact form to get started! We serve residents of Elizabethtown and the surrounding communities, including Hershey, Mount Joy, Lancaster, Harrisburg, York, Lititz, Camp Hill, Mechanicsburg, Manheim, Bainbridge, Lebanon, Palmyra, Middletown and Hummelstown.