---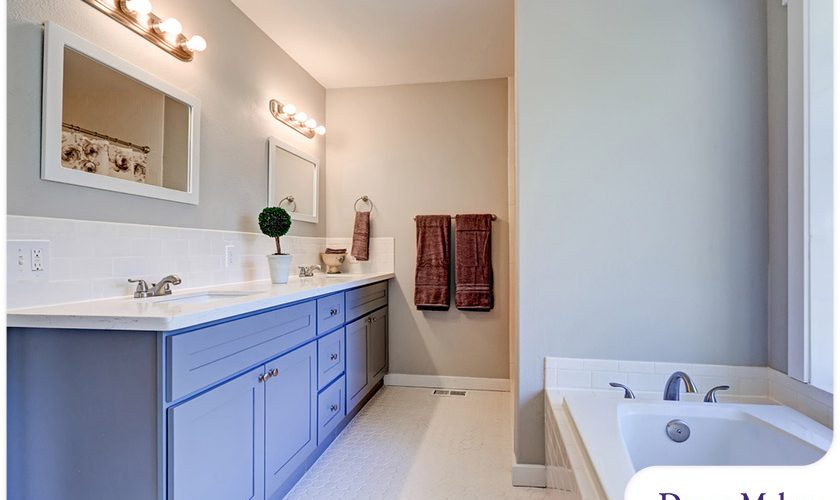 ---
The atmosphere and overall look of your bathroom largely depend on color. Repainting a bathroom is among the easiest ways to give it a makeover. It will also allow you to customize your space to your taste and style. Consulting an experienced bathroom renovation company will help you decide which color brings out the best in your space. Here are paint colors our designers often recommend.
Recommended Bathroom Colors
Creamy White
Painting your walls a creamy white will bring warmth and hominess to your bathroom. You can pair this beautiful neutral hue with light colors like soft pink or lavender. Choosing metallics with a vintage patina will add a classic appeal to the room.
Bright White
If you prefer something more sleek and sophisticated, consider bright white walls. To add texture and depth, choose tiles of different sizes and shapes. Do you want to be more adventurous? Go with vibrant colors for your accessories like green, yellow or pink.
Taupe
Taupe is available in various shades, and each can give your bathroom a different look. For instance, browner tones create an earthy look, while grayer tones look more modern. Those who want something with more color in it should consider a shade with a tinge of purple.
Light Blue
Incorporating light blue walls in your bathroom remodel will create a feeling of calmness in the room. You should include it if you want to create a spa-like aesthetic. Light blue walls look exceptional when paired with white accents and details.
Light Gray
Soft or light gray is a versatile color you can use in nearly all rooms in your home. A great thing about light gray is that you can combine it with virtually any color you can think of. It helps bring attention to the elements of your bathroom that you wish to accentuate.
Charcoal
A shade between gray and black, charcoal gives a room a more modern and dramatic look. It may be a darker hue but it still possesses warmth, making it work for living spaces. With the addition of metallic elements and natural wood tones, you'll end up with a relaxing and homey bathroom.
Brown
Another neutral color that complements bathrooms is brown. It gives a serene, earthy appeal to living spaces. Cream, beige and soft blue accents go well with light brown walls. If you want to go with a more mellow shade, use lighter tones for the accent.
Let's Start Planning Your Project!
Make the most of your home remodel by choosing DreamMaker Bath & Kitchen of Elizabethtown. Give us a call at (717) 452-4942 or fill out our contact form for a no-obligation consultation. We work with clients in Hershey, Mount Joy, Lancaster and Harrisburg. Our team also serves York, Lititz, Camp Hill, Mechanicsburg, Manheim, Bainbridge, Lebanon, Palmyra, Middletown and Hummelstown.