---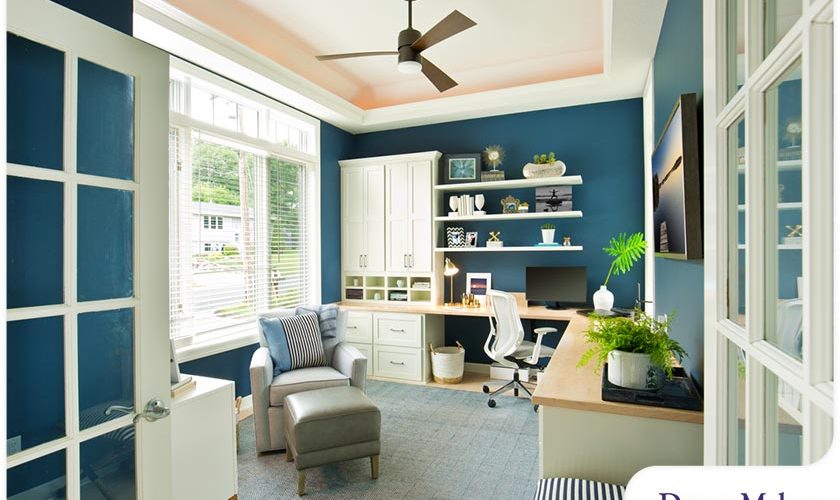 ---
Now that telecommuting has become the rule rather than the exception, many have decided to tackle a home office remodel to accommodate their needs while working from home. Those who have never done this before — at least not on this scale — are now wondering whether they have a workable setup. How big should a home office be? This article will give you a good idea of how much space is enough space for a home office.
First of all, it is good to remember that big is not necessarily better. This is less about the total floor space and more about having enough room for the activities that matter.
Desk
The desk is the heart of your workstation. A freestanding desk is typically 48-72 inches wide, 26-36 inches deep and 30 inches tall from the floor to the top of the desk. Unless you want to have your desk flush against the wall, leave about 33-36 inches of space between the back of your desk and the wall.
Leaving several feet of space between the back of your chair and the wall is also a good idea. Five feet should suffice for backing up your chair to get up and allowing another person to walk behind you without hitting your head against their elbow.
Think about a motorized height-adjustable desk if you like switching between working on your feet and sitting on a chair throughout the day.
Chairs
Office chairs are more comfortable than dining chairs if you spend hours sitting at a desk. Find comfortable chairs with height adjustment and ample back support, particularly for the lower back. Office chairs with wheels are convenient, especially if you have limited space and have to move now and then to allow others to pass.
Computer
The best computer for working at home is a laptop because it is portable and has a smaller footprint, leaving you with more desk space. If you choose a desktop computer, make sure there is enough space for the CPU. You may have to put it under the desk if space is limited, but if you need to plug in an external hard drive or thumb drives now and then, this might not be comfortable.
Fortunately, you can get an iMac or a similar computer that combines the screen with the CPU. Choose one of these computers to save space. A Bluetooth keyboard and mouse are extra-convenient, as you don't have to deal with cables that can make your desk look untidy.
If you have a keyboard tray, leave about two inches of space between your thigh and the tray. This will keep your arms and shoulders relaxed while you are working.
Let's Start a Conversation!
DreamMaker Bath & Kitchen of Elizabethtown can work with you to make your interior remodeling dreams come true. If you have other questions about setting up a home office, we will be glad to help. Start a conversation with us here or call (717) 298-3830 to set up an appointment. We offer our remodeling services to homeowners in Hershey, Mount Joy, Lancaster and Harrisburg. We also serve York, Lititz, Camp Hill, Mechanicsburg, Manheim, Bainbridge, Lebanon, Palmyra, Middletown, and Hummelstown.