---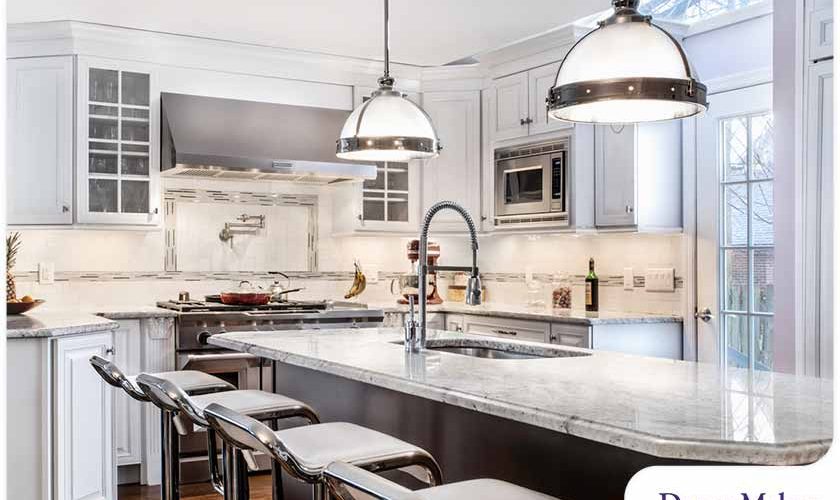 ---
A focal point is any feature or element that stands out and draws your eye upon entering the space. Without it, a room can look and feel uncoordinated. If you are planning a kitchen, bathroom or home office remodel, consider the kind of focal point that goes well with that specific room. Here are some ideas to help you get started.
Consider the Architecture of the Room
If you're lucky, the architectural features of a space may result in a built-in focal point. These can include things like French doors leading to a patio, a large freestanding tub in your bathroom or a fireplace in your den. Features like these make it easy to have an anchor point around which to plan the rest of the room's design.
Utilize Height
If your room doesn't have any stand-out architectural features, consider creating a focal point with height in mind. A floor-to-ceiling wardrobe or bookcase is a perfect example, as is a tall mirror, a painting or a large-format print.
Choose Bigger Fixtures
An oversized fixture can make a great focal point, especially if you want to achieve a more dramatic effect with your interior remodeling project. Statement pendants can give practically any room an instant wow factor, and we're always big fans of functional decor.
Use Bold Colors
If you have a small space, using a single bold color can give your room drama and interest. Choosing a sofa in a bold fabric might help, or some attention-catching drapery. Wallpaper is another great option if you want a focal point that doesn't eat up precious floor space.
Display Your Collections
Do you have a passion for collecting stuff? If you are into antiques, rare books or toy figures, you can group them all in one area of the room. It's a great way to inject a ton of personality into your space.
Focal Point Ideas for Every Room
Here are some other great focal point ideas to consider for different rooms in your house:
Living Room – Create an accent wall with bold paint or a color that's a few shades lighter or darker than the rest of the walls.

Bedroom – Install a painting or wall hanging behind your bed to complement the space's soothing and relaxing atmosphere.

Home Office – Highlight a piece of furniture, like a desk, couch or bookcase.

Foyer – Make this area of your home inviting right off the bat with a wall of photos or mirrors.
Let's Start a Conversation!
From cabinet refacing to complete interior remodeling, DreamMaker Bath & Kitchen of Elizabethtown is committed to delivering a remodel that meets your specific needs. Give us a call at (717) 298-3830 or fill out our contact form to schedule an in-home or virtual consultation. We serve homeowners in Harrisburg, Mechanicsburg, Bainbridge, Palmyra and other nearby communities.