---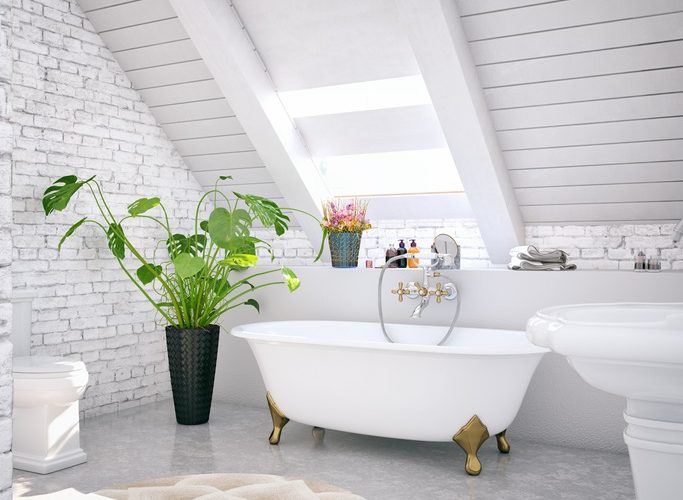 ---
It may come as a surprise that you can fit a full bathroom in any attic, even if it wasn't included in the first place. Local bathroom remodeler DreamMaker Bath & Kitchen of East Georgia shares important renovation considerations for attic bathrooms.
Required Space
Generally, building codes require a total minimum area of 70 square feet for a finished attic. Installing a conventional wall may reduce the usable area, but a dormer or skylight can help make up for the missing height clearance. This will mean modifications to the roof, so if the roof is still under warranty, you will have to consult with your roofing contractor to determine how this will affect the coverage.
Support Structure
The attic floor is part of the roofing support structure. It's primarily designed to support roofing load, which means an attic conversion may require reinforcing the attic joists and other support components. This will increase remodeling costs but is also an opportunity to improve the attic floor's load-bearing capabilities.
Plumbing
The closer the attic bathroom is to existing plumbing, the easier it will be to run new pipes, so your contractor will review the existing floor plan and find the side that's closest to the bathroom. This can help reduce bathroom renovation costs because there will be less piping and labor required, as well as less damage to the adjoining wall during installation.
Waterproofing
One of the reasons you should work with a remodeler who has experience with attic conversions is waterproofing. Unlike bathrooms on the ground level, leaks in the attic bathrooms will affect all the floors directly below it.
Insulation
An unfinished attic typically has insulation loosely applied on the attic floor. If your attic is like this, then new insulation will need to be installed, this time to the roof deck. Since the attic bathroom—and the entire attic living area, for that matter—will be close to the roof, thick insulation will be essential. This will keep your attic from getting too hot during the summer and losing heat during winter.
Let's Start a Conversation!
DreamMaker Bath & Kitchen of East Georgia is your leading local provider of kitchen and bathroom remodeling services. Call us at (478) 268-4206 or fill out our contact form to start a conversation. We serve homeowners in Swainsboro, Dublin, Statesboro, Vidalia and Metter, GA, and nearby areas.
If you live in Swainsboro, Dublin, Statesboro, Vidalia, or Metter and are interested in learning more about remodeling your kitchen or bathroom, don't hesitate to contact the DreamMaker Bath and Kitchen of East Georgia team.