---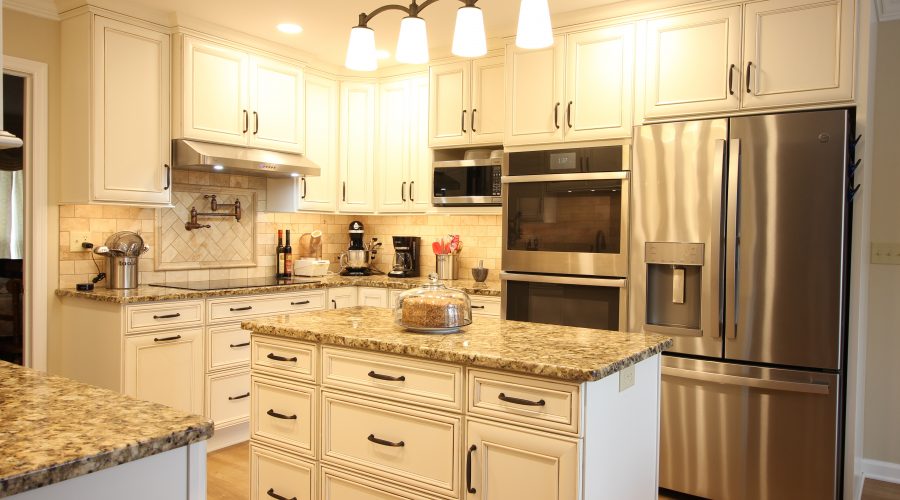 ---
Even a small household with two or three people is more than enough to stretch an average-sized kitchen to its capacity. This is one of the reasons why homeowners prioritize their kitchens when planning a general home remodeling project.
The usual objectives of a kitchen remodel are to maximize storage space and promote efficiency and convenience. This is not particularly new as most kitchen designs are aimed toward these same goals. In fact, a 1949 study by the Department of Agriculture established some of the design principles that modern kitchen designers still use today. Our experts showcase a few of these ideas below.
U-Shape Layouts
The U-shape layout used in kitchen remodeling was first introduced by the Bureau of Human Nutrition and Home Economics. It's been the basis of many modern kitchen designs and its use is still prevalent today. In a U-shaped floor plan, counters are laid out in a U shape. The sink, fridge and range occupy the middle part of each of the sides. This allows for easy access to the three most important parts of the kitchen.
L-Shape & Corridor Layouts 
Kitchens with limited floor space can make use of a modified U-shape floor plan and still get the most out of their designs. L-shapes are best for corner kitchens while corridor layouts can be used to provide users with plenty of elbow room even in tight spaces.
The Importance of Lighting
Under-cabinet lighting has been recommended by the experts as far back as the 1950's. While early models made use of 40-watt fluorescent bulbs, modern kitchens now typically use LED lights. Xenon lighting is also a good option because of its warmer glow compared to other incandescent lights
The best replacement windows to maximize natural light are picture windows. This style exchanges operability with glass area, allowing ample sunlight to enter and illuminate a kitchen during the daytime. Modern-day kitchens have more window options to choose from including sliding, casement and double-hung windows.
Storage & Utility
Depending on how much use you expect your kitchen to have, it's always a good idea to include plenty of storage space in your remodeling plan. Cabinets and drawers have always been staples of any good kitchen design. Cabinet sizes are designed for keeping kitchen utensils and equipment off the counters when they are not in use.
Let's Start a Conversation!
Turn the kitchen of your dreams into a reality with the help of our skilled craftsmen at DreamMaker Bath & Kitchen of East Georgia. We are trusted local home remodeling professionals in Swainsboro, Dublin, Statesboro, Vidalia and Metter, GA, and nearby areas. Give us a call at (478) 268-4206 or fill out our contact form to start a conversation today!
If you live in Swainsboro, Dublin, Statesboro, Vidalia, or Metter and are interested in learning more about remodeling your kitchen or bathroom, don't hesitate to contact the DreamMaker Bath and Kitchen of East Georgia team.