---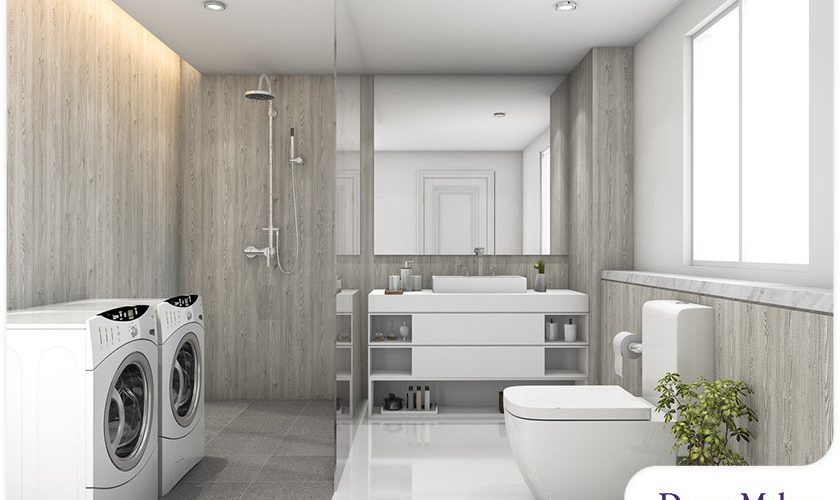 ---
Your bathroom can be more than just a place for personal hygiene. It can also be a good spot for a laundry area if you are short on square footage and don't have a dedicated laundry room. Read on as your trusted bathroom contractor shares some helpful tips to keep in mind.
Measure the Space
Before you install a washer and dryer in your bathroom, make sure they fit into your extra space. Take measurements to determine how much room you have available. You're good to go if they can be fully opened. Also, be sure that you have water-resistant flooring. If not, consider installing stone tiles or vinyl flooring in that area of the bathroom to protect against leaks.
Install the Washer Near Existing Plumbing
Your washer requires plumbing, so make sure it is installed on the same wall as the existing pipes inside your bathroom. It can be placed adjacent to or on the backside of the bathroom or mechanical room wall. Having existing plumbing in your bathroom means a remodeler can access both the water supply and waste lines for your unit.
Know Your Options
Knowing how much space you have inside your bathroom and the location of your existing plumbing can help you determine the placement of your washer and dryer. Your bathroom remodeler may recommend any of the following:
Stacked. Full-sized, front-loading washer and dryer units can be stacked to save space. From there, you can add more features like shelving or cabinets to store laundry supplies. Don't forget that your remodeler will need to install a vent that runs from the dryer and within the ceiling joists to the exterior wall.

Side-by-side. Another placement option would be to install your washer and dryer side-by-side. This works especially well if you have a large bathroom space.

Hidden from view. If your washer and dryer look dated or do not match the rest of your bathroom, you can consider hiding them from view in custom or modified cabinets. Have more room to spare? Include laundry hampers in this new storage unit.
Let's Start a Conversation!
If you're on the internet and searching "bathroom contractor near me," keep Dreammaker Bath & Kitchen of East Georgia top-of-mind. Our designers can incorporate stylish features, overcome space constraints and accomplish virtually any other goals you have for your bathroom space. Give us a call today at (478) 347-7108 to get started. You may also fill out our contact form to start a conversation with our design experts. We serve homeowners in Swainsboro, Dublin, Statesboro, Vidalia and Metter, GA, and nearby areas.
If you live in Swainsboro, Dublin, Statesboro, Vidalia, or Metter and are interested in learning more about remodeling your kitchen or bathroom, don't hesitate to contact the DreamMaker Bath and Kitchen of East Georgia team.