---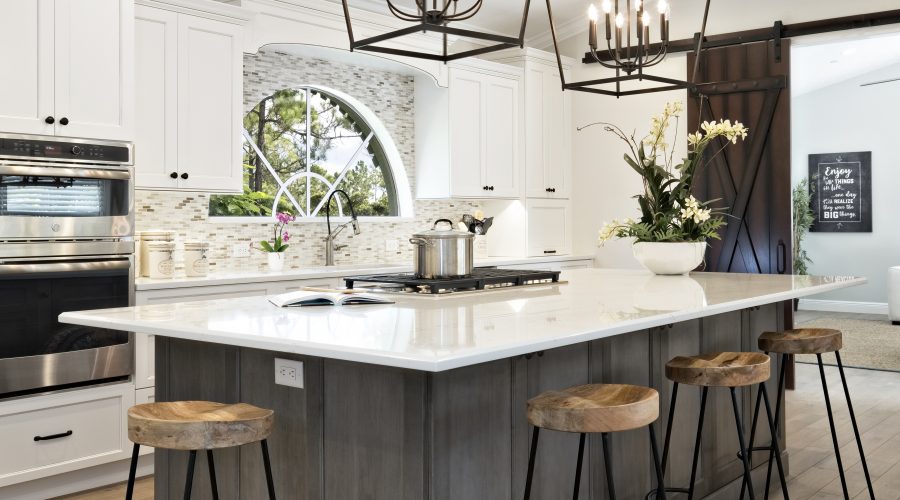 ---
Whether you're designing a dedicated eating area for a small family or for large gatherings, there are a few things you need to consider when planning the kitchen and dining areas.
Consider the Type of Eating Area
Most people think of a dining table or a breakfast nook when thinking of eating areas, but there are several types:
Island Seating — This is a kitchen island with an extended countertop. The overhang accommodates a row of stools and functions as an informal eating area.
Table-Height Counter — This can be part of a kitchen island but the top is set at table height, designed for use with standard dining chairs. You can design a multifunction island with different heights for other functions.
Eat-In Kitchen — An eat-in kitchen features room for a table and chairs and functions as a casual eating space. It's ideal for quick stovetop-to-table service, and can double as a space for visitors to socialize.
Breakfast Nook — A breakfast nook is a small space where one or two persons can have an informal meal apart from the main kitchen work area. The seating can be separate or integrated into the design.
Banquette — Banquettes are small dining tables with one or more sides adjoining a fixed seat, similar to a diner booth. Many homeowners make use of bay window seats as the main seating for banquettes.
Dining Area — This is a formal dining space that may be separated from other rooms in the house. Homes with open floor plans may combine the dining area and family room into one space.
Plan for Company
Make it a point to leave room for guests when designing your eating area. A round table is ideal for small, informal eating areas as it allows guests to crowd around it as needed. Rectangular tables, usually used for formal dining, may impose seating limits. Make sure there is at least 44 inches clearance between the seating area and any wall or furniture. This allows room for a walkway and for chairs to pull out.
Plan the Lighting
The ideal height for a dining table chandelier is 30 to 34 inches from the tabletop. Work with a good kitchen remodeler to get the best combination of lighting fixtures for both your eating area and its surroundings.
Let's Start a Conversation!
DreamMaker Bath & Kitchen is ready to create the kitchen of your dreams. Whichever options best suit your style, DreamMaker Bath & Kitchen of East Georgia can transform your space with kitchen remodeling in Swainsboro, Dublin, Statesboro, Vidalia, or Metter, GA! We are confident we can give your kitchen the boost it needs. Call us today at (478) 268-4206 to schedule an appointment!
Kitchen and Bathroom Remodeling Services
If you live in Swainsboro, Dublin, Statesboro, Vidalia, or Metter and are interested in learning more about remodeling your kitchen or bathroom, don't hesitate to contact the DreamMaker Bath and Kitchen of East Georgia team.