---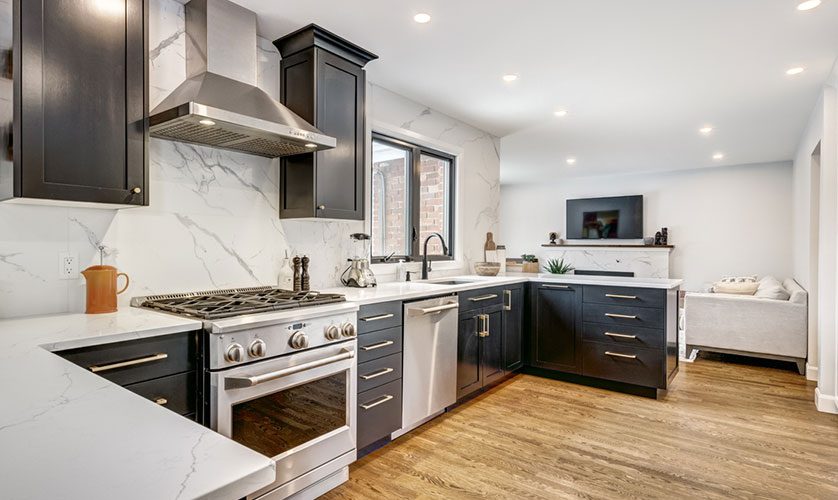 ---
A monochromatic kitchen doesn't mean a dull or lifeless space. On the contrary, it can be your secret weapon for a sleek, minimalist, and incredibly sophisticated space. Local kitchen remodel contractor DreamMaker Bath & Kitchen of Beaverton explores the underrated beauty and functionality of the single-color kitchen.
The Beauty of Monochromatic Kitchens
Monochromatic kitchens are not just about a single hue from top to bottom. It also blends varying shades, tones, and textures of a single color to create a visually engaging space. Simplicity is the beauty within the monochrome aesthetic, turning an ordinary kitchen into an extraordinary space where the most subtle details shine. Sticking to one color ensures cohesiveness in the design and adds value and sophistication.
The Practicality of Monochromatic Kitchens
Single-color kitchens are not just about looks! They come with a truckload of practical benefits as well. A monochrome palette can make your space seem larger and brighter. It also allows for easy updates. For instance, if you decide to switch things up, you can do so without a full-blown kitchen renovation. This helps you save precious time and money.
Debunking Myths About Monochromatic Kitchens
Despite these benefits, a few myths persist about monochromatic kitchens. Some fear that they will look dull or uninspiring. Others raise concerns about them being too safe or unadventurous. On the contrary, a well-designed monochromatic kitchen is anything but bland. With the right approach, it can make your cooking and entertaining space look stunning and eye-catching.
Tips on Making the Monochromatic Look Work
Here are a few tips to consider to achieve the monochromatic look:
Make sure the elements are balanced across the room. Choose your colors carefully and accent them with varying shades for a more interesting look.
Layer textures. Don't be afraid to play with different materials and textures. You have plenty of options from sleek stainless steel to warm wood and marble.
Showcase key features. Make them stand out with unique color combinations.
Proper lighting is crucial to a successful monochromatic kitchen. Choose the right light fixtures to bring life to your space, making it look larger and brighter.
Let's Start a Conversation!
A monochromatic kitchen offers the perfect blend of beauty, practicality, and versatility. It's a timeless design concept that you can incorporate into your home remodel. Ready to embrace its charm and character for your Beaverton home? DreamMaker Bath & Kitchen of Beaverton is just a call away. Give us a call at (503) 214-2167 today to get started! You can also reach us online and we'll get back to you. We serve homeowners in Portland, Hillsboro, Lake Oswego, and Tigard.