---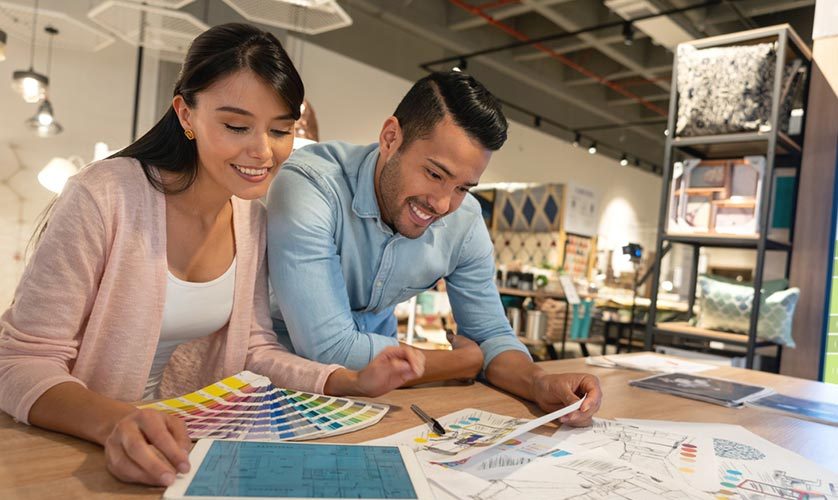 ---
Realizing your dreams of a revamped living space starts with some form of inspiration. This is where an idea board comes in handy. This creative tool can crystallize concepts and elements that you desire, allowing you to convey your vision to your contractor easier. DreamMaker Bath & Kitchen of Beaverton, one of the top names you see when searching "contractor near me" online, explains how to build your remodeling inspiration board.
How an Inspiration Board Works
An inspiration board is a powerful tool in the remodeling process. By gathering images, textures, colors, and designs that resonate with you, you create a physical or digital collage that helps you determine the look and feel of your new space. It serves as a visual guide, aiding in the realization of what you want your remodeled living spaces to look like. Plus, sharing this board with your interior remodeling contractor ensures they clearly understand your vision, eliminating any kind of miscommunication right from the beginning.
Steps to Build a Remodeling Inspiration Board
Building a remodeling inspiration board can be an exciting and valuable step in the renovation process. Follow these steps to create a visually captivating and helpful reference for your project:
Identify Your Style. Do you lean towards a modern, minimalist look or do you prefer a homely, rustic aesthetic? Once you have a basic understanding of your preferred style, start gathering images. Browse home design magazines and websites, take photos of living spaces that appeal to you, and collect samples of materials or colors.
Define Your Goals. Determine the specific areas or aspects of your home you want to remodel or renovate. Whether it's the kitchen, bathroom, living room, or your entire house, focus on gathering ideas that align with your project goals.
Organize and Categorize. As you collect images and materials, organize them into categories such as color palettes, furniture styles, lighting options, flooring, and more. This makes it easier to find specific ideas during the planning phase. You don't need to follow any set rules—just place things where they naturally fit together.
Consider Practicality. While inspiration boards are about creativity and aesthetics, also consider the practical aspects of your interior remodeling project. Ensure that your ideas are feasible within your budget and space constraints.
Add Personal Touches. Incorporate elements that reflect your personality and preferences into the board. Whether it's a particular art style, favorite colors, or sentimental items, infusing your inspiration board with personal touches will make the final design feel more authentic to you.
Share With the Pros
Remember, the purpose of an inspiration board is to help you stay inspired and organized throughout the remodeling process. At DreamMaker Bath & Kitchen of Beaverton, we can help refine your ideas for your project. We'll discuss removing items that don't fit with the overall design and adding new ones as needed, ensuring the various elements work harmoniously together and contribute to the overall theme or style you want to achieve.
Let's Start a Conversation!
Building a remodeling inspiration board is an enjoyable process that adds clarity to your vision. Are you ready to bring your dreams to life? Get in touch with the team at DreamMaker Bath & Kitchen of Beaverton. Call (503) 214-2167 to start your remodeling journey today! We serve Portland, Beaverton, Hillsboro, Lake Oswego, Tigard, and the surrounding areas. You can also fill out our convenient online form to schedule a consultation and obtain an accurate bathroom or kitchen quote.