---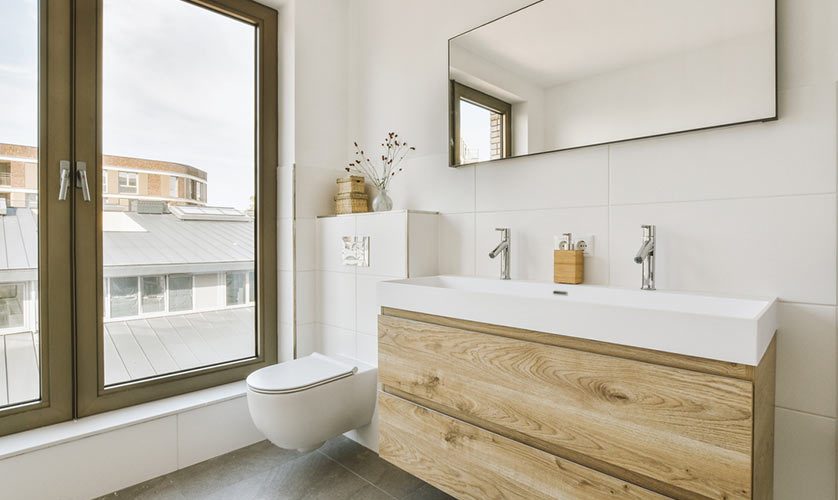 ---
Are you planning a bathroom remodel and looking for design inspiration? Creating a beautiful and functional bathroom requires careful consideration of various factors. In this blog post, we'll walk you through the hallmarks of good bathroom design, helping you achieve a stunning yet practical space you'll love for years.
Space Utilization
Good bathroom design emphasizes efficiency. Think about the layout and how it can maximize functionality and flow. For instance, consider the placement of the toilet, sink and shower or tub, ensuring they work well with one another without impeding movement. Keep storage solutions in mind, such as built-in shelves or cabinets, to keep your bathroom clutter-free and organized.
Lighting
The right lighting can make your bathroom space look inviting and makes everyday tasks like grooming and applying makeup easier. Make the most of natural light by installing larger windows or skylights. For artificial lighting, consider using a combination of ambient, task and accent lights. Layering these types of lighting can create a warm and welcoming atmosphere while providing adequate illumination for specific tasks.
Ventilation
Taking this into account is well worth the bathroom cost. By keeping the bathroom space well-ventilated, you ensure the health and comfort of anyone using it. A high-quality exhaust fan helps lower humidity levels, which then eliminates moisture that causes mold, mildew, and musty smells. Don't forget operable windows to let fresh air in.
Material Selection
A well-designed bathroom utilizes materials that are not just durable but also water-resistant. Porcelain or ceramic tiles for walls and floors are easy to clean and can withstand moisture. Balance your desired aesthetics with practicality when selecting materials for countertops, cabinetry and fixtures.
Accessibility and Safety
Incorporating universal design principles into your bathroom can make the space more accessible and safe for everyone, regardless of age or ability. Consider installing grab bars near the toilet and in the shower or tub and slip-resistant flooring materials.
Let's Start a Conversation!
Good bathroom design encompasses space utilization, lighting, ventilation, material selection, accessibility, and safety. By considering all these aspects, you'll create a stylish and functional bathroom that adds value to your home and improves your overall lifestyle.
You don't have to look far to search "bathroom remodeler near me" online. For high-quality remodeling services, turn to DreamMaker Bath & Kitchen of Beaverton. Give us a call at (503) 214-2167, or fill out our online form to discuss your needs and get a detailed bathroom quote for your project. We are proud to serve homeowners in Beaverton, as well as the nearby communities of Aloha, Raleigh Hills, Forest Grove, Cornelius, Banks, North Plains, Tualatin, Sherwood, and Milwaukie.