---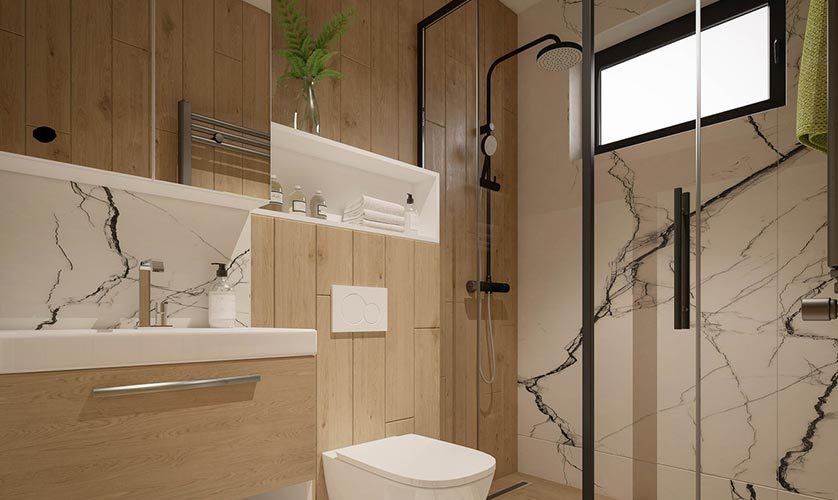 ---
A bathroom remodel starts with you defining a clear set of goals to ensure that the project meets your needs and expectations. Doing so will help you stay focused, organized and satisfied with the final result. Learn the goal-setting process and discover examples of typical remodeling goals in this post by home remodeling expert DreamMaker Bath & Kitchen of Aiken.
How to Set Goals for Your Bathroom Remodeling Project
Start by assessing your current bathroom and identifying what aspects you'd like to improve. Consider factors such as functionality, aesthetics and organization. Determine which of these goals are most important to you. Prioritizing will help you allocate your budget and time effectively. Understand how much you can invest in your bathroom remodeling project. Setting a budget will guide your decisions and help you avoid overspending.
Look for inspiration in magazines, online platforms, and friends' homes. Create a vision board or scrapbook to compile your ideas. Consider searching online for "bathroom remodeler near me" and hiring one who is the best fit for your needs. The team's one-on-one attention can be invaluable in achieving your goals.
Create a timeline that outlines the project's start and completion dates. This will help you manage expectations and keep the project on track. Regularly check in on the project's progress to ensure that your goals are being met. Make adjustments as needed.
Best Bathroom Remodeling Goals to Focus on
Bathroom remodeling goals can vary depending on individual preferences and needs, but here are some common goals that homeowners often aim to achieve when remodeling their bathrooms:
Enhance Functionality
Enhancing functionality in a bathroom remodeling project is a common and practical goal. Improving your bathroom's layout for better use of space and upgrading fixtures and plumbing can help enhance functionality. Adding more storage solutions can also help reduce clutter.
Upgrade Aesthetics
Upgrading the aesthetics of your bathroom is a common goal in many remodeling projects. Some ways to enhance the visual appeal and style of your bathroom include updating its overall look and style or replacing outdated tiles, paint and lighting. You can also choose a specific design theme, such as modern, classic, or spa-like.
Increase Energy Efficiency
While there may be an initial bathroom cost for upgrades, increasing energy efficiency in your bathroom during a remodeling project can not only help you save on utility bills but also contribute to a more environmentally friendly and sustainable home. Some ways to achieve this are to replace old appliances with energy-efficient models, like low-flow toilets and LED lighting, and improve insulation and ventilation to reduce energy consumption and costs.
Work With Excellent Local Remodelers
Setting clear goals for your bathroom remodeling project is essential to achieving the results you desire. Work with a trusted partner, such as DreamMaker Bath & Kitchen of Aiken, to turn your bathroom remodeling goals into reality. We serve homeowners in North Augusta, Graniteville, New Ellenton, Beech Island and Barnwell.
Are you ready to start your bathroom transformation journey? Call us at (803) 266-1913, or fill out this contact form for a consultation and bathroom quote.