---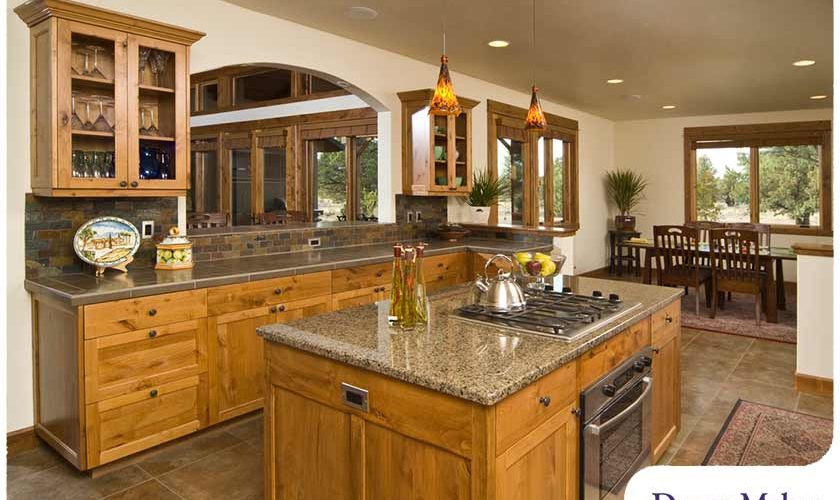 ---
Your kitchen is the heart of your home. It is a gathering place where family and friends can indulge in a dining experience with much chit-chat and laughter. While you want your kitchen to be functional, do not forget to add a little character to the mix. Fortunately, there are plenty of ways you can do just that.
DreamMaker Bath & Kitchen of Aiken, a trusted kitchen remodeler near me, shares five design tips here.
1. Highlight Character Features
If your kitchen already has character features, such as flagstone floors and exposed brickwork, do not think twice about embracing them. Any of these charming and unique characteristics can be accommodated in a bespoke design. For example, exposed beams do not have to be overlaid to achieve straight ceilings or walls. By collaborating with the right designer, you can emphasize all the inherent features of your existing kitchen.
2. Experiment With Textures
Do not hesitate to incorporate various materials into your kitchen design. One popular example is opting for metal with an aged finish like brass or copper. Doing so can add a timeless quality to the overall atmosphere of your kitchen. Utilizing the imperfections of wood can also create a warm, rustic feel throughout the space.
3. Use the Right Elements
Using the right elements can help achieve your desired kitchen style. For a sleek and classic kitchen, installing a range-style cooker and free-standing pieces — such as islands and dressers — is the way to go. For a more industrial look, consider nestling a butler sink between wooden cabinets.
Ask for a kitchen quote from a trusted contractor to help you determine which features you can splurge or save on for your new kitchen.
4. Add Details
Every kitchen full of character has a focal point that catches your attention. It can be maximalist or designed around uninterrupted lines. In a shaker-style kitchen, for instance, ornamental details like cornice, a decorative trim that rests atop a wall, and plinth, a trim at the bottom of low units, are incredibly prevalent. A patterned backsplash is also a go-to choice as it adds a pop of color the space needs.
5. Display Serveware
With glass-front cabinets in your kitchen, you can put on display some of your favorite china, teapots, wine glasses, and other serveware pieces. Glass-front cabinets are particularly popular in kitchens that are airy, bright, and open.
Let's Start a Conversation!
DreamMaker Bath & Kitchen of Aiken specializes in bathroom and kitchen remodeling solutions. With the knowledge and expertise of our design-build professionals, we can help you elevate the look and feel of your space without much hassle. Call (803) 266-1913 or fill out our contact form to request a bath or kitchen estimate. We serve residents of Beech Island, Barnwell, North Augusta, Graniteville, and other surrounding communities.