---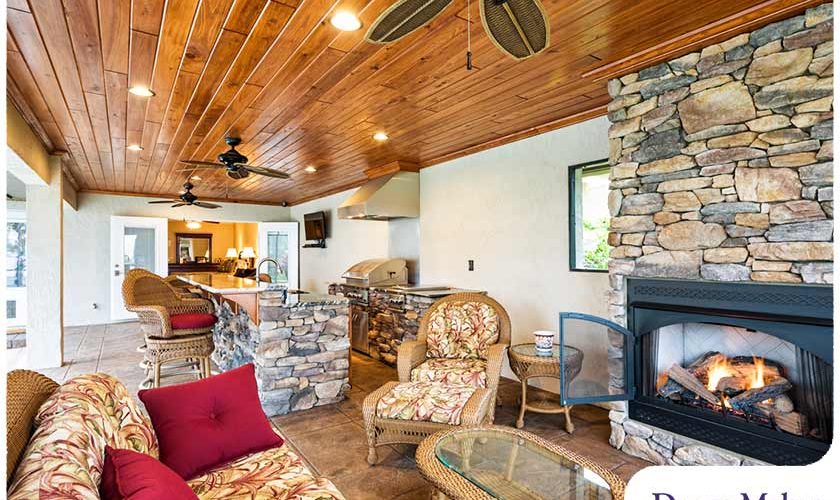 ---
When designing an outdoor living space, you want to create an experience that is comfortable and functional in all seasons. Summer is easy since the main challenge is to keep things shaded. In other seasons, however, there is more work to do to keep things cozy.
In this article, premier home renovator DreamMaker Bath & Kitchen of Aiken shares some design considerations you will want to keep in mind.
Feel the Warmth
For most homeowners, cool temperatures are the main reason to refuse an outdoor space. But the good thing is that there are several steps you can take to warm it up. A fireplace, for instance, adds a little bit of character to an outdoor space while making it feel like a cozy outdoor room. A hot tub is another great feature to add to your list of outdoor space ideas. Even in the dead of winter, immersing yourself in warm water can be a special way to appreciate the outdoors.
Keep It Bright
The more restful a living space is, the more you want to use it year-round. Because winter months are darker, be sure to have copious amounts of lighting in your outdoor space. LED and solar lights can be added. An awning over the space can also help it seem more like an outdoor room while it contains heat and shelters you from snowfall. To boost privacy in the space, consider installing curtains or shutters.
Transform the Space
If you have an existing deck or porch, you can take advantage of it and embrace it as the foundation of your home improvement project. Your outdoor living ideas can include converting such space into an outdoor room perfect for all seasons. Choose pieces of furniture that are comfortable but also resistant to all sorts of elements, suggests a home remodeler. Today's trends also favor full outdoor kitchens and elaborate grills that allow homeowners to prepare and serve meals without having to go inside. It is an excellent opportunity to expand the square footage of your home while dramatically improving your quality of life. In the end, an outdoor room should allow the users to connect the indoors to the outdoors and delight in the view of the landscaping year-round.
Let's Start a Conversation!
If you are looking for a premier home remodeler near me, look no further than DreamMaker Bath & Kitchen of Aiken. Our team of professionals is here to elevate comfort and curb appeal. Just give us a call at (803) 266-1913 or fill out our online form to schedule an appointment. We serve residents of North Augusta, Graniteville, Beech Island, Barnwell, and other surrounding communities.