---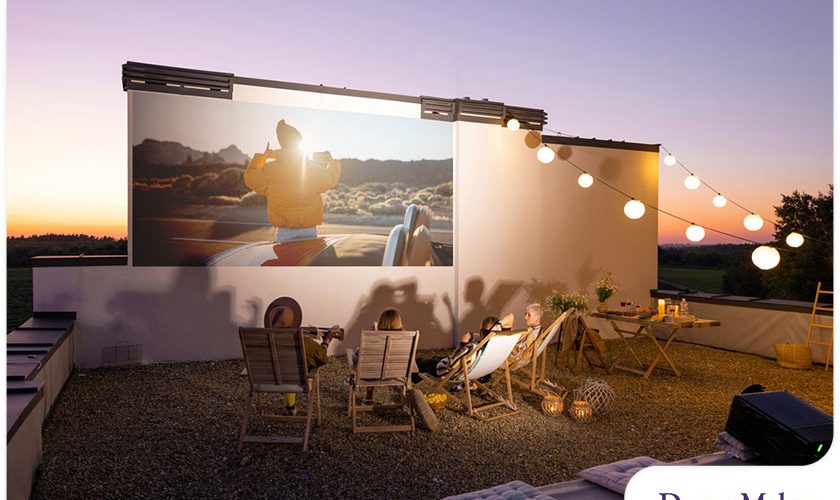 ---
Transforming your backyard into the ultimate outdoor theater can be a fun summer project for your family. There are various ways to build one, but make sure your outdoor theater has more than the basics. Home renovation contractor DreamMaker Bath & Kitchen of Aiken shares tips on how you can create this unique feature.
The Advantages of an Outdoor Theater
Compared to an indoor theater, setting up an outdoor theater allows you to invite more people. Watching a movie while the sun sets or under the stars has its charm too. By setting up your movie nights outside, you won't need to turn on your AC, so you can also save energy.
What You Need
Portable Projector – Since your outdoor home theater isn't going to be a permanent fixture in your backyard and projectors aren't weatherproof, it's best to get a portable unit for movie-watching. But before purchasing a projector for your outdoor movie theater, there are several factors to consider such as image quality, image size and connectivity. You'll want to make sure your projector is compatible with the media player or laptop you're going to connect it to.
Sturdy Screen – If you're serious about this outdoor home remodel project, you'll need to invest in a portable projection screen. Backyards usually don't have high walls, so a portable screen is a must-have for an outdoor theater. This type of screen reflects light without altering the projected image, ensuring that your movies look great. Most portable projection screens are reasonably priced and can be set up almost anywhere.
Dependable Speakers – To create the ultimate experience in your outdoor home theater, you'll also need quality speakers. Projectors, like TVs, don't have the best sound. Fortunately, there are projectors with a variety of connectivity options, allowing them to work with a wide range of speakers.
Media Source – You can project your video in many different ways. Blu-ray players are recommended for watching Blu-rays and 4K discs. If you want to watch from a video streaming platform, you'll need to make sure your internet connection is stable. If your projector has the functionality, you can just connect your laptop or phone to play your movie. Just make sure to set up the right parameters to be able to connect to your media player.
Let's Start a Conversation!
Now that your ultimate outdoor theater is all set up, how about starting an interior remodeling project? You can count on DreamMaker Bath & Kitchen of Aiken to help you with home renovations and additions. Call us at (803) 266-1913 or fill out our contact form to schedule an appointment. We serve clients in North Augusta, Graniteville, New Ellenton, Beech Island, Barnwell and Edgefield Park.