---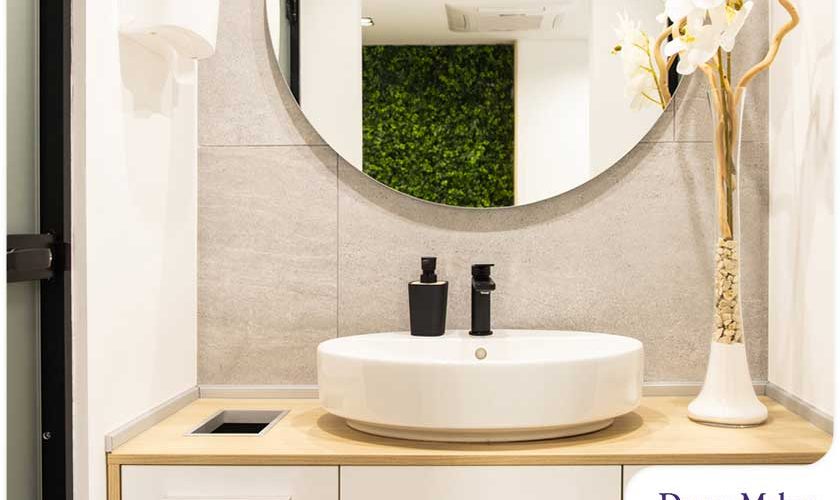 ---
Your sink is a versatile bathroom fixture. It's functional, but it can also contribute to the aesthetic of your bathroom. That said, it's important to pick the best one among the various styles and materials available.
Before browsing, you should take your lifestyle into account and consider how your bathroom sink is going to be used daily. To help you choose the perfect sink, expert bathroom remodeler DreamMaker Bath & Kitchen of Aiken discusses some factors you should consider when looking for a bathroom sink.
Material & Size
You can get a bathroom sink in any size, shape or material. Porcelain is the most popular choice, but metal and cast iron are also good options. Wood can be made into a basin of any size or shape too.
When selecting a material for your bathroom sink, one thing to think about is how easily it can be cleaned. Some materials tend to break down faster than others and require more maintenance. Copper, for example, needs a special cleaner and wax to maintain its appeal.
With regard to size, your sink should be big enough for the size of your bathroom. If you don't have a lot of space, a corner sink might be better. If you have enough space, having two sinks in a shared bathroom would be convenient.
Bathroom Space & Storage
You should also consider the size of your bathroom and how much functional space you have to work with. You don't want a sink that takes up too much room. If storage is an issue, you'll need to factor that in as well. If you have a smaller space, your bathroom contractor may recommend a cabinet with a sink mounted on top to provide extra storage space.
Installation Style
Wall-mounted sink – As the name suggests, wall-mounted sinks are attached to the bathroom wall. These sinks work well in small bathrooms because they allow for the use of the space beneath them, giving the impression that the bathroom is larger than it actually is.
Pedestal sink – Similar to wall-mounted sinks, pedestal sinks have a basin that is attached to the wall but is supported by a pedestal. This is another type of sink that works well in small bathrooms. The disadvantage of a pedestal sink is that it does not provide the storage space that a bathroom vanity does.
Top-mount sink – Top-mount sinks are also known as self-rimming or drop-in sinks. This type of sink fits into a cutout on the top of a counter or vanity. It is installed in the opening and held in place by a rim on the sink that overlaps the hole.
Let's Start a Conversation!
With DreamMaker Bath & Kitchen of Aiken to assist you with your bathroom renovation project, you don't have to spend hours searching for a "bathroom contractor near me" online. Let our team of professionals help you plan, design and create the perfect bathroom for your lifestyle and budget! Call us at (803) 266-1913 or fill out our contact form to schedule an appointment. We offer our services to clients in North Augusta, Graniteville, New Ellenton, Beech Island, Barnwell and Edgefield Park.