---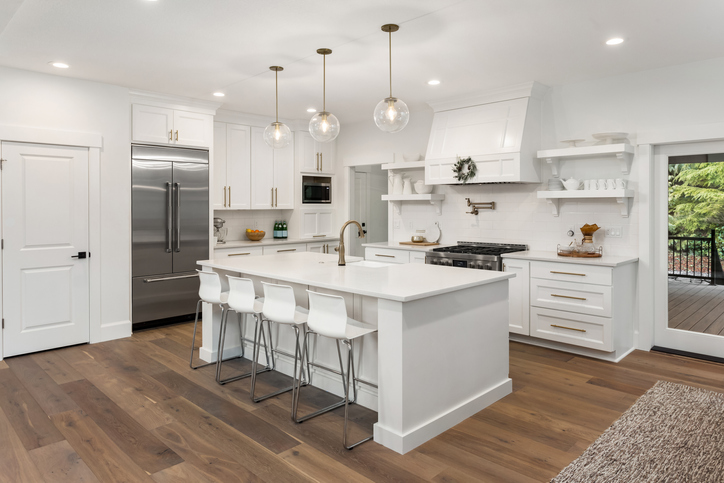 ---
The kitchen island is the centerpiece of a kitchen. When designing your breakfast bar, one of the most important decisions you will have to make is whether it should be bar-height or counter-height. Local kitchen remodeler DreamMaker Bath & Kitchen of Wilmington weighs the advantages of both.

Counter-Height Countertop

Counter height is considered the standard for kitchen islands. The standard height is 36 inches but it may vary, relative to your height. The countertop surface should be about three to four inches below your elbow. The right countertop height makes it easier to perform kitchen tasks comfortably. Set the counter too low and it could lead to back problems; too high and it could cause unnecessary strain on the upper arms.

A single-height countertop is the kitchen design standard for several reasons:

Countertop materials like quartz or granite look great as a single flat surface, which is highlighted by a single-height kitchen island.
When used as an eating area, a single-height kitchen island creates a larger, more open feel. A clear line of sight also lets you watch your kids as they play or do their homework while you cook.
The relatively low seating height lets kids and elderly family members sit comfortably.
You can use a single-height countertop for things like buffet spreads, or as an informal eating area for several guests.
Bar-Height Countertop

The standard height for kitchen bars is 42 inches. In order to eat comfortably, you need to sit on bar stools or eat while standing up. Many people are more comfortable doing so at that height and often, that reason alone is enough to have a section of the kitchen counter elevated to bar height.

Having part of the countertop raised to bar height has certain advantages:

A raised bar hides kitchen clutter from the casual viewer.
A raised bar creates a barrier that separates the work and dining areas. Some homeowners use the raised bar as a combined service and dining area, similar to sushi bars.
The raised section of the kitchen island creates a visual cue that separates the kitchen from the rest of the house. If properly planned, it should make the house look more organized without making it look less spacious.
Counter Height vs. Bar Height

Considering the benefits of each, the choice between the two comes down to your taste and style, as well as some pragmatic considerations. For example, if you or a family member is well into their later years, then you likely need a counter-height breakfast bar. On the other hand, you might want to consider a bar-height breakfast bar if you often host family gatherings.

Let's Start a Conversation!
Having trouble choosing between the two? Let us help. DreamMaker Bath & Kitchen of Wilmington offers a wide range of professional remodeling services, including kitchen remodeling. Give us a call at (910) 212-5889 or fill out our contact form to schedule an appointment. We serve homeowners in Wilmington and surrounding communities including Port City, Forest Hills, Leland and Pine Valley.