---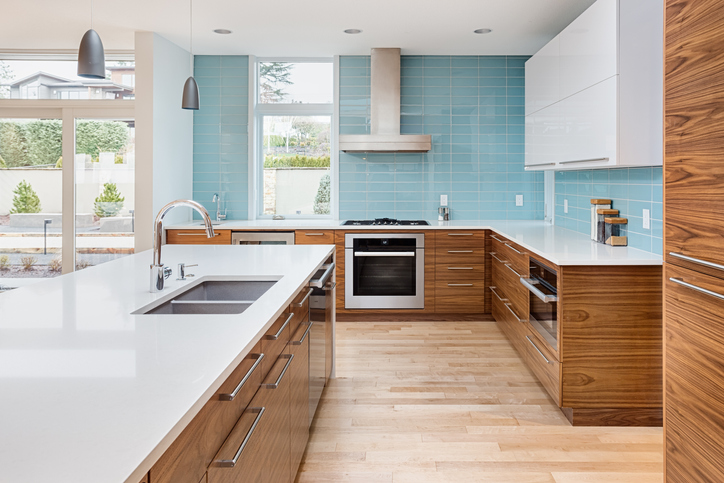 ---
If you're planning a bathroom or kitchen remodel, you'll be looking into tile designs at some point. In this blog, the home renovation contractors at DreamMaker Bath & Kitchen of Wilmington share this year's top tile trends.

Rare & Precious Stones

Tile manufacturing technologies are so advanced that manufacturers are now able to offer tiles that emulate rare and precious stones, down to their iridescent look. Manufactured stone tile is certainly more sustainable—it reduces mining and usage of rare stones—and these tiles do not lack the "premium" look.

Pantone Color of the Year

The 2020 Pantone of the Year is Classic Blue, a deep blue that's reminiscent of clear skies at dusk. Tiles in this same color, complemented by dusty orange and sage green, create a calming feel that works great in master bathrooms.

Dimensional Tile

Tiles with dimensional or bas relief patterns are trending, thanks to their textured look and feel. The latter feature is particularly great with monochromatic color palettes, which is typical of traditional home remodeling designs. Note that some patterns may require more frequent cleaning than standard tiles.

Refined Natural Wood

If you want the look of natural wood but not its high maintenance requirements, you'll love ceramic tiles that mimic the look of natural wood. Many homeowners are catching on to this trend, which is why it's poised to be one of the most popular tile trends of 2020.

Speckled Tiles

Terrazzo flooring is made of marble, quartz or granite chips embedded in polymer or cement, which creates a speckled look. Speckled tiles take the look of terrazzo to the next level with variations such as technicolor patterns, geometric speckles or even patterns found in nature, such as giraffe-like patterns. In addition to bathrooms and kitchens, speckled tiles also look great on basement floors.

Mixed Geometric Tiles

Give your bathroom or kitchen a look that's something a little less square—literally—with mixed geometric tiles. You're probably already familiar with honeycomb and triangular tiles, but tile shapes such as trapezoids and diamonds are steadily trending among homeowners. Unique tile shapes create a fresh look that steers away from conventional tile designs. Note that some styles may raise labor costs and installation may take longer to finish.

Industrial Chic

Concrete floors are a staple of industrial design and complement brick walls well. They also absorb moisture and tend to form long, noticeable cracks. Homeowners who want an industrial look but would rather not deal with concrete's inherent problems choose concrete-look tiles. They look and feel like concrete, but have the moisture resistance and durability that you expect from quality tile.

Let's Start a Conversation!
Planning a bathroom or kitchen renovation? DreamMaker Bath & Kitchen of Wilmington offers a wide range of professional remodeling services, including closet design. Give us a call at (910) 212-5889 or fill out our contact form to get started with a no-obligation consultation. We serve homeowners in Wilmington, NC, as well as Carolina Beach, Carolina Place and Pender County.