---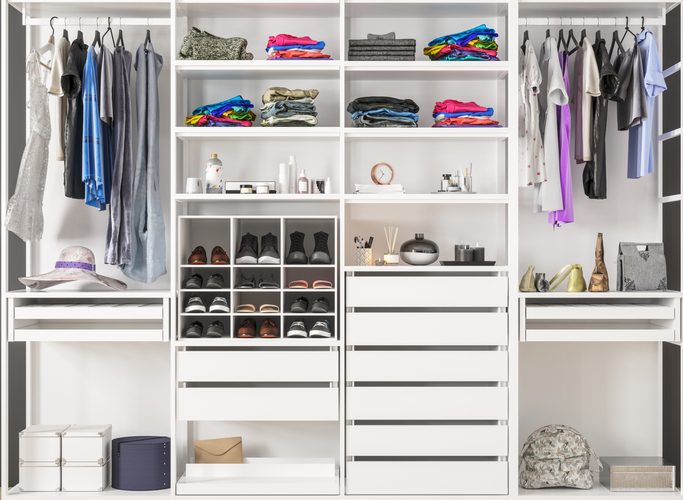 ---
When it comes to remodeling a bedroom, the closet always seems to be the last step for both home renovation contractors and homeowners. People tend to pay a lot of attention to detail when choosing features for the rest of the room, while closets become a footnote. However, with a little bit of creativity, you can turn your closet space into a paragon of organization and easy access.

Here are a few of the best tips from our experts at DreamMaker Bath & Kitchen of Wilmington on how to design and build the perfect closet.

Utilize the Walls
The goal of any well-designed closet is to provide enough storage space for everything you want to put inside. Shelves are a great way to maximize even the smallest closets, however, a common mistake many people make is not utilizing walls to their fullest potential. There's often dead space above the top shelf, about 12 to 24 inches below the ceiling. By adding a few additional shelves, you can minimize dead space and boost the storage in your closet.

Customizable Closets
The ideal closet design should be able to adapt to changes in your wardrobe. A storage space with rigid shelves and immovable hanging rods may be good for now, but it might not be when you change your fashion sense. Consider rods and shelves that have multiple spaced holes or slots for adjustments. This way, storage can be adjusted accordingly.

Deeper Shelves
Most wood planks used in building shelves come in standard 12-inch widths. For some homes, this may be good enough. However, when clothes hang over the edge of a shelf, it can make the whole closet look sloppy and disorganized. Talk to your designer about putting in deeper 14-inch shelves. You'll be surprised just how big a difference this little change can bring to your closet.

Use Adequate Lighting
Dark colors can make any space look smaller. The same is true for closets. Include adequate lighting in your closet design plans to help make it appear bigger. Dressing is also easier when you have a brighter closet.

Let's Start a Conversation!
DreamMaker Bath & Kitchen of Wilmington can help you make the most of your closet renovation. Give us a call at (910) 212-5889 or fill out our contact form to start a conversation today. We serve homeowners in Wrightsville Beach, Carolina Beach and other surrounding communities.