---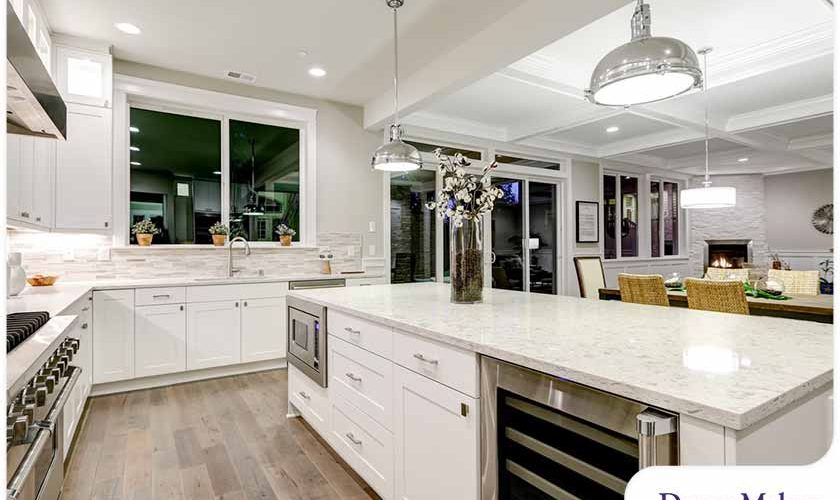 ---
Contemporary is one of the most sought-after kitchen styles — it's clean, uncluttered and stylish while still remaining functional. It is defined by simplicity, subtle sophistication, clean lines and deliberate use of texture. Because such an emphasis is put on minimalist design, contemporary kitchens are free from all unnecessary ornamentation.
Below, trusted kitchen renovator DreamMaker Bath & Kitchen of Wilmington shares the basic elements of a contemporary kitchen:
Clean lines. Simplicity is key in contemporary design, and nothing communicates this characteristic more than clean, sleek lines. Lines can be curvy or boxy, horizontal or vertical, and can refer to many architectural details such as millwork. A penchant for clean lines puts attention on form.
Light colors. Although contemporary style can be accomplished with bold and vibrant colors, interior designers have a preference for a neutral and monochromatic palette: whites, grays and tans. In a contemporary kitchen, warm tones create a slightly transitional look while cool tones introduce an ultra-sleek appearance.
Shaker-style cabinets. According to a remodeler, cabinets are usually the ideal way to incorporate clean lines into contemporary kitchens. The no-frills Shaker style reflects the minimalism of the design in cabinetry. Additional elements such as glass panels and sleek hardware can enhance Shaker-style cabinets.
Waterfall edges. Another hallmark is waterfall edges on islands and peninsulas. A waterfall edge extends down the side of the cabinetry or seating area rather than ending with a finished edge. It helps create a coherent aesthetic as well as a visual focal point.
Paneled appliances. In a kitchen, there is no way around the presence of appliances — unless you panel them. A paneled appliance has a custom cover that matches the rest of the cabinetry in the kitchen, making it blend into the design. Paneled appliances are considered the epoch of clean lines in contemporary kitchens. Stainless appliances are also a popular choice.
Let's Start a Conversation!
If you are looking for a "kitchen contractor near me", turn to DreamMaker Bath & Kitchen of Wilmington. Your new home is within reach, and our experienced team of designers and builders is standing by to help you. Call (910) 928-2207 or complete our convenient online form to start a conversation with us. We serve clients in Wilmington and the surrounding areas including Landfall, Ogden, Porters Neck and Leland.