---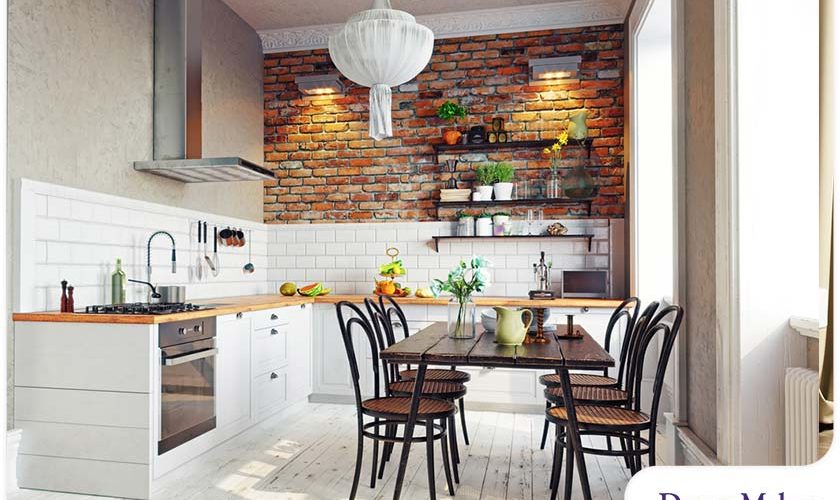 ---
Whether you are moving into a classic cottage in the countryside or simply love the look and feel of this interior design, it is important to know the quintessential features that make the space.
Kitchen contractor DreamMaker Bath & Kitchen of Tyler has rounded up some wonderful ideas from premier designers to get you inspired and started on your project.
Keep the Space Simple
Cottage-style kitchens are often characterized by their vintage appeal and a hodgepodge of trinkets and accents. Because of this, they can quickly look cluttered and unorganized. To keep things simple, incorporate a soft color scheme, slab-front cabinets, and minimal handles. Symmetry allows kitchens to look smart, especially since it is one of the busiest areas of the home.
Use a Natural Floor Covering
Wood and stone flooring is a key component of a cottage-style kitchen. If you want a softer look, a sisal rug can provide comfort underfoot while helping define the area of the kitchen. You want to choose something that withstands spills and the heavy foot traffic of a busy family.
Incorporate Real Wood Shaker-Style Cabinetry
There is rarely a straight line to be found in an authentic cottage kitchen. This is why custom-made cabinetry is often an excellent solution to getting the most out of the awkward corners in your space. A kitchen remodeler says that the clean lines of classic Shaker-style cabinetry will help ground the rustic architectural features prevalent in this interior design.
Focus on Storage Solutions
Sometimes classic cottage kitchens come with storage problems, from uneven walls to a simple lack of space. With built-in cabinetry, you can take advantage of every inch of the room. Floor-to-ceiling cupboards will help maximize vertical space, and storage window seats and under-plinth drawers will increase the traditional cabinetry.
Maximize Natural Light
A cottage kitchen usually has low ceilings and small-paned windows, so the key to good design is optimizing natural light throughout the space. Daylight can create a serene and harmonious flow within the kitchen. You can do this by adding cabinetry in pale colors like sage green or snow white — both are subtle and unassuming but fresh enough to awaken the space.
Add a Modern Update
A cottage kitchen is cozy and rustic, but that does not mean it cannot be up to date. With some additions, you can give your space a contemporary update all within the comfort of the beloved interior design. Consider introducing marble and metallic elements alongside the neutral palette and natural wood to keep the look fresh and balanced.
Let's Start a Conversation!
DreamMaker Bath & Kitchen of Tyler specializes in bathroom and kitchen remodeling solutions. Our experienced team of designers and builders cannot wait to bring your ideas to life. Contact (903) 255-7111 or complete our online form to get in touch with a contractor near me. We serve homeowners in Tyler, Swan, New Chapel Hill, Noonday, Arp, and other nearby areas.