---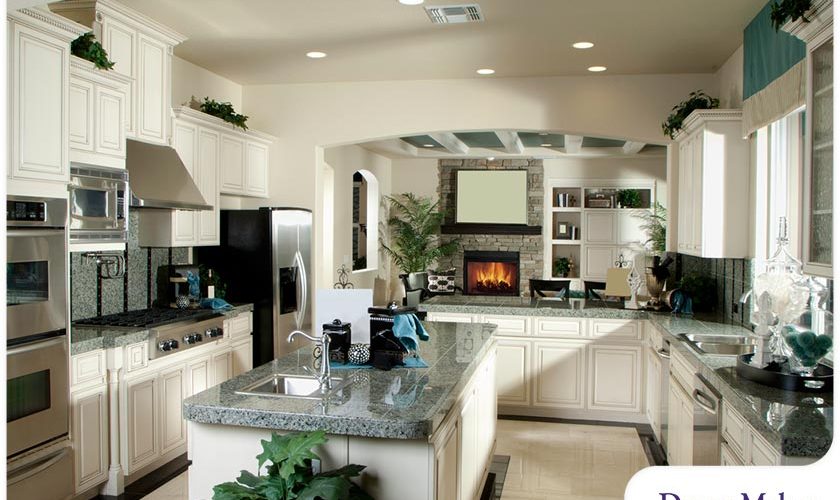 ---
When asking for a kitchen quote, you should let your contractor know about your needs and preferences as well as any design ideas you want to incorporate into your kitchen. The classic U-shaped kitchen is one of the most popular choices among homeowners.
A U-shaped kitchen is centered around three walls, forming a layout that looks like the letter U. These three sides usually feature countertops, cabinets and appliances. If you're seriously considering a U-shaped kitchen, here are its pros and cons that you should know.
Pros
Counter space – Having two to three connected walls allows you to install countertops on each side, providing you with plenty of work area. More than one cook can work simultaneously, or you can entertain guests while preparing meals — making the heart of your home a great gathering place.
More separation for the kitchen – Open-concept kitchens are popular these days. But if you want your kitchen area to be a bit more separated from other living spaces, a U-shaped kitchen layout is a good solution. A U-shaped kitchen can be designed to be more closed-off or more open to fit the open-concept framework.
Storage – With three connected walls, you also have a lot of space for cabinets and drawers. This means a less cluttered kitchen for you since organizing your kitchen will be easier. A U-shaped kitchen can also accommodate a kitchen island, giving you more options to add counter space, storage and seating.
Cons
A cramped feel – Generally, U-shaped kitchens are deeper and more narrow, which can make the space feel cramped. Although you can have plenty of counters and work area, it can still get hectic if the U-shaped kitchen isn't wide enough for people to avoid bumping into each other. Make sure to consider this during the design phase: the U should be wider and more open so that your kitchen can comfortably fit multiple people at once.
Too many corners – U-shaped kitchens usually create two corner cabinets, which can be difficult to access if your kitchen was poorly designed. Replacing these corner cabinets can also be complicated if they get damaged or broken. To ensure your corner cabinets are accessible, you should opt for cabinetry that's specifically designed for corners or use storage carousels.
Traffic jams – A U-shaped kitchen has only one way in and out, making it prone to traffic jams, especially on busy mornings. A wider opening can help prevent such a scenario and promote a better flow going in and out of the kitchen.
Let's Start a Conversation!
You can always count on DreamMaker Bath & Kitchen of Tyler to provide you with the best kitchen and bath remodeling services. You won't have to search for the best "kitchen remodeler near me". Contact us today at (903) 255-7111 or fill out this contact form to get started! We proudly serve Tyler, Swan, New Chapel Hill, Whitehouse, Noonday, Troup and other nearby areas.