---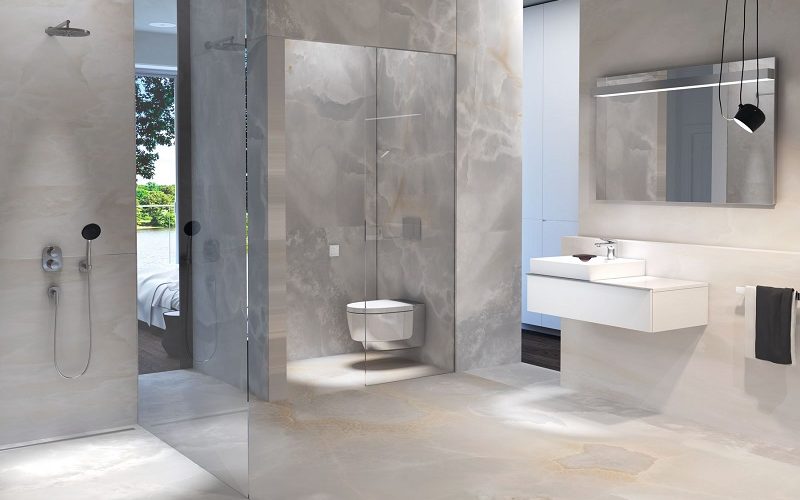 ---
Wet bathrooms are nothing new, they just haven't been favored by American homeowners. Bathroom remodeling contractors report that this style is finally coming into its own, and predict that the demand for wet bathrooms will likely grow in the coming years. Let's take a look at the pros and cons so you can better determine if a wet room is something you'd consider. 
A wet room is basically a bathroom that doesn't have a shower enclosure. The entire bathroom is open and water from the shower drains into the bathroom's main drain. The floor is usually built with a slight slope to allow water to drain away adequately. In keeping with its open design (which essentially allows everything to get wet), the walls and floors must be completely tiled and waterproofed.
The Pros
Tired of having to clean your glass shower enclosure? You're not alone. Many homeowners who opt for wet bathrooms cite the difficulty of keeping the shower glass clean as the main reason they prefer wet rooms. 

If your bathroom has a small footprint, an open bathroom design can make it look bigger. Buyers  are more likely to value a spacious-looking bathroom, so a wet room can win over more prospects when you're ready to sell your home.

The additional protection from the extra waterproofing required in wet bathrooms may make it last longer than a normal bathroom.
The Cons
Since it's an open bathroom, you should expect everything to get wet. This can be a downer if guests need to walk into a wet bathroom to wash their hands. It's best to have another bathroom guests can use, so you can keep the wet bathroom exclusively for personal use.

It can be expensive to retrofit a wet room, as the walls need to be tiled and waterproofed from wall to ceiling.

You will need ample ventilation. The high level of moisture can cause even your towels and toilet paper to get wet. You'll also need adequate concealed storage solutions to avoid the inconvenience of items that constantly get wet.
One of the leading home remodeling contractors in Minnesota, DreamMaker Bath & Kitchen of St. Louis Park, can help you build a wet room that you'll enjoy using. Choose from among our many bathroom remodel designs or have us custom-build a bathroom with the aesthetic and functionality you desire. To learn more about what we can do for you, simply give us a call at (954) 637-6386 or fill out our online contact form to get started. Let's start a conversation today!