---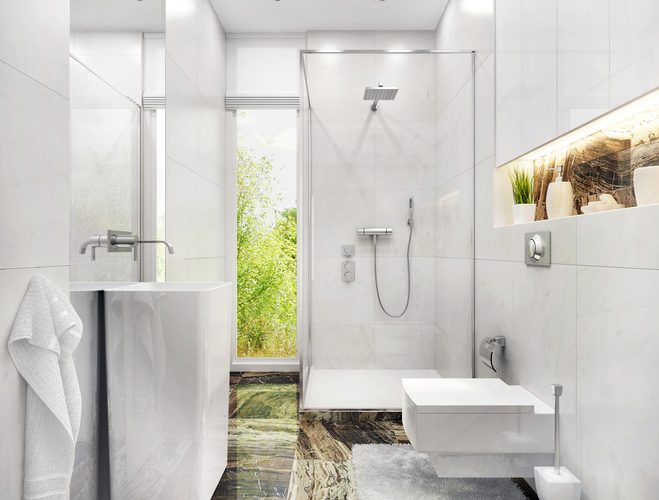 ---
Many homeowners have to deal with a small bathroom. However, limited space doesn't mean that you can't make it beautiful and functional at the same time. With smart choices and proper planning, you can have sufficient storage as well as an appealing and convenient space. Today, our bathroom improvement experts explain smart solutions to common small-space problems.
No Space for a Shower Enclosure
A tub is often necessary if there's only one bathroom in the house and you have kids to bathe. This makes fitting in a separate shower enclosure a challenge. The best way to deal with this problem is with a wet-room-and-bath combination. This option is not only appealing but also practical. You can use the space between the sink and tub for your walk-in shower. For a cleaner, sleeker look, consider a frameless screen enclosure.
Cluttered Space Due to Lack of Storage
Finding sufficient storage for all your toiletries is not easy when you're working with limited space. You simply need to make the most of every nook of your bathroom. If you're using your tub solely for bathing kids, consider getting a mini tub instead, so you can use the extra space for cabinets or shelves. You can also have a recessed shelf built inside the shower where you can store shampoos and other toiletries.
The Lack of Footprint
In master bathrooms and newly added shower rooms, a small footprint is a common issue. This occurs when the toilet, sink and shower are so tightly squeezed together that there's not much room left. If this is the issue you're facing, consider a bathroom design with a floating sink, toilet and furniture. These fixtures will make your floor area appear more expansive and also be easier to clean.
A Bathroom Without Natural Light
The lack of natural light can make a room feel gloomy and look cramped. If your bathroom doesn't have a window, you can use LED downlights to provide task lighting over the sink. Some wall lights on either side of a mirror will be a nice complement to the overhead lighting. Another option is to add a skylight to bring in natural light.
Let's Start a Conversation!
Looking for reputable bathroom contractors? Choose DreamMaker Bath & Kitchen of St. Louis Park.Call us at (952) 417-9999 or fill out our contact form to start a conversation with our team. We work with clients in Eden Prairie, Minnetonka, Bloomington and surrounding communities.