---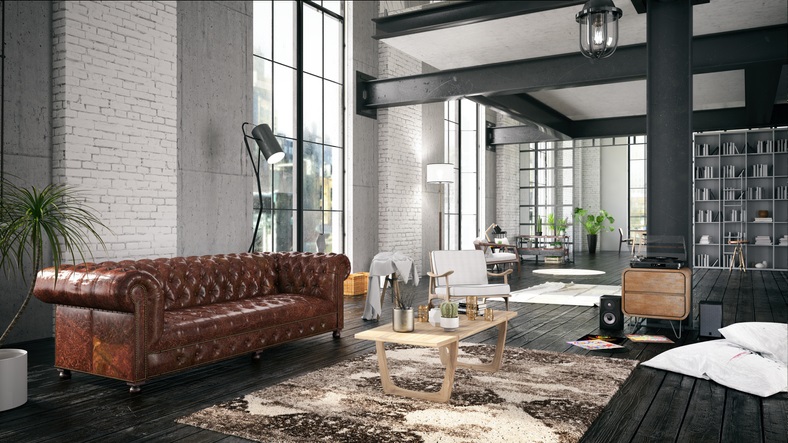 ---
Small rooms can feel uncomfortable and confining. That's why home remodeling ideas that make interiors appear much more spacious than they really are can often be invaluable. With the help of great color techniques, furniture arrangement and smart lighting, you can make your rooms appear bigger.
Using Color
Light colors make a room look bigger and brighter. Because light and bright walls are more reflective, they make a space feel more open and airy. Dark colors, on the other hand, absorb light and make a room look smaller. In addition, painting your wall trim and moldings in a lighter color than your walls can make your walls appear to be farther back, to make a room seem bigger.
Natural light also helps opens up a room so it looks larger. Bringing natural light into your home through large windows will bring the outdoors in and visually expand your space. Sheer window coverings or none at all will also allow more light in.
Arranging Furnishings
Nothing will make a small space feel cramped faster than having too much stuff. Display one large painting rather than a group of small paintings. Create a focal point to draw the eye and keep the décor in the rest of the room to a minimum. A rug-free floor can also help you create the illusion of more floor space.
Mirrors reflect both natural and artificial light to make a room brighter during the day and night. A mirror placed near a window to reflect the outdoors is especially effective in giving your spaces a more open feel.
Use multi-functional furniture, e.g., a chest-cum-coffee table, a bed with drawers underneath, an expandable dining table or other types of furniture which can be tucked away as needed. Place larger pieces of furniture against the wall to create more open space, and scale your furniture to fit the size of the room. Make sure there is plenty of space between your furniture too.
Bring Your Dreams to Life
One of the leading home remodeling contractors in Minnesota, DreamMaker Bath & Kitchen of St. Louis Park boasts experience and expertise that are sure to bring your home's various spaces to life. To learn more about what we can do for you, simply give us a call at (954) 637-6386 or fill out our online contact form to get started. Let's start a conversation today!