---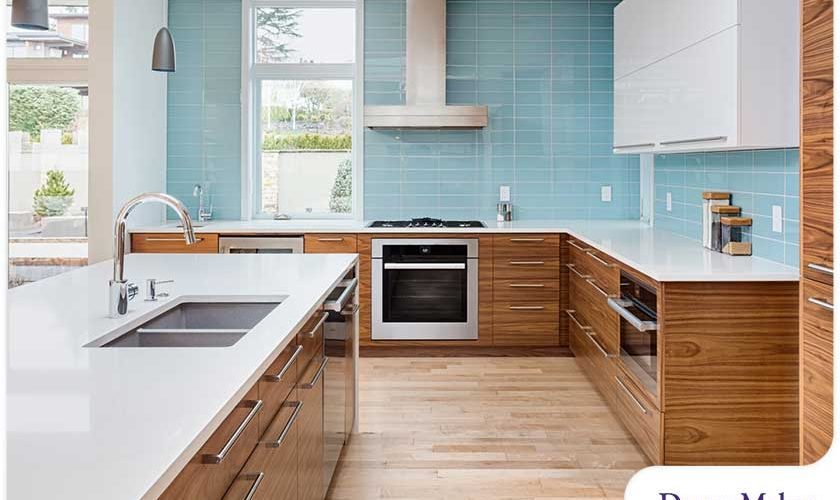 ---
The L-shaped layout is popular among kitchen remodelers and homeowners alike for two major reasons. It is space-efficient, with all essential work areas, cabinets and appliances placed against two adjoining walls. It's also labor-efficient, because the natural work triangle it forms makes preparing, cooking and storing food easier and more comfortable. Its efficiency makes the L-shaped kitchen an ideal choice for both small spaces and as part of a larger, open-plan home.

Here are some of our top tips and ideas for your L-shaped kitchen.

Have a dedicated entertaining zone.

Kitchens are a hub for social interactions, and an L-shaped layout lends itself well to a family- and guest-friendly space. It allows multiple cooks to work together without getting in each other's way too much. It leaves room for people to chat and mingle. If you have the space, consider creating a bar or breakfast nook on the side of the room farthest from the busiest work zones to control the flow of people and activity.

Add a kitchen island if possible.

Space permitting, consider adding an island that will serve as the primary centerpiece of your kitchen design. This would be a great alternative to the breakfast nook setup mentioned earlier, as you can add seating to one side. Kitchen islands, even compact ones, also provide additional storage space and work areas—a big plus if you have a smaller kitchen. And in a large, open-plan space, an island delineates your kitchen and provides visual balance. (Can you tell we're a big fan of islands?)

Create the feeling of more space.

It's easy to make an L-shaped kitchen look and feel bigger because you aren't closed in by cabinets and countertops on all sides. Light is your friend: let in as much natural light as possible and put ceiling and under-cabinet lighting to good use. Amp up the effect by choosing a light-colored paint for your walls. Satin or semi-gloss paints work best in a kitchen because they softly reflect light and stand up well to splashes, stains and scrubbing. Finally, use your cabinets (not your countertops) for storage! Take advantage of the generous cabinet space afforded by your L-shaped kitchen to keep the space bright, airy and uncluttered.

Let's Start a Conversation!
DreamMaker Bath & Kitchen is ready to help you dream up a kitchen that will meet your vision and expectations. From kitchen cabinet refacing to a comprehensive floor-to-ceiling renovation, our talented design team will help you create the perfect kitchen for you. Call (954) 637-6386 or fill out our contact form to start a conversation! DreamMaker serves St. Paul, Dayton, Roseville and nearby communities.