---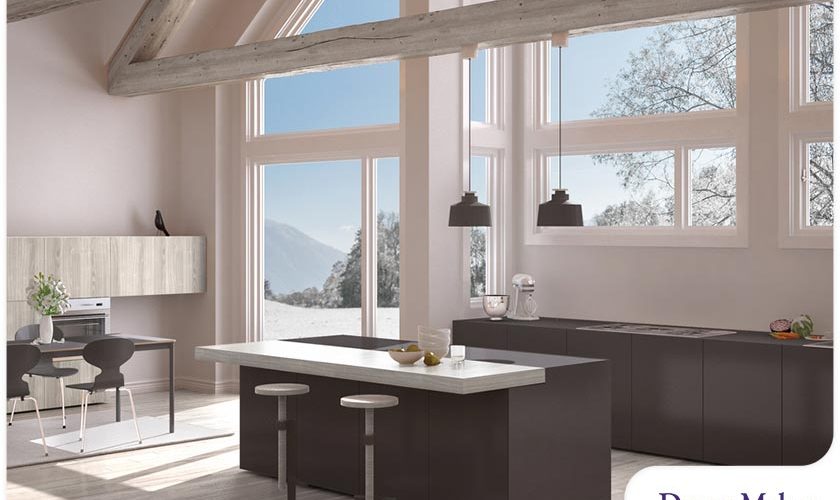 ---
Mountain contemporary is currently one of the most popular kitchen remodeling trends. This style is all about bringing the outdoors into your home. When properly designed and planned, you'll have a warm and rustic kitchen that makes your home feel like a relaxing retreat. Here are the key elements of a mountain contemporary kitchen.
Mixing Wood & Stone
When designing a mountain contemporary space, among the biggest goals is to recreate an outdoor look and feel. This is one reason you should incorporate a mix of wood and stone elements. You can achieve this by utilizing stone countertops and pairing them with luxurious wood cabinets.
Plenty of Windows & Natural Light
The more natural light, the better when it comes to mountain contemporary kitchens. You can get a lot of light from artificial fixtures but it's still better to source natural light from windows. Did you know that natural light can contribute to a brighter mood, better focus and improved productivity? Generous amounts of light can also make your kitchen feel fresher and appear bigger.
More Textured Surfaces
Instead of paying attention to colors, mountain-style kitchens focus on texture. Experienced kitchen remodel contractors suggest using wood with larger grains and knots. It's also a good idea to go for textured concrete and other stones instead of choosing smooth glass and metal surfaces.
Low-Maintenance Design
When choosing materials for a mountain modern space, consider the climate and wildlife. You can enjoy your space more by incorporating local stones and native plants since they are easier to maintain. This style is not only a popular trend but also a sustainable one and it will look great even if you live in the city.
Let's Start a Conversation!
Whether you're looking for cabinet refacing or full kitchen remodeling services, you can rely on DreamMaker Bath & Kitchen of St. Louis Park. Our experienced team is here to help you create a kitchen that meets your lifestyle and needs. Call us at (952) 417-9999 or fill out our contact form to start a conversation with a design expert if you live in Anoka, St. Paul, Adina or any surrounding community.