---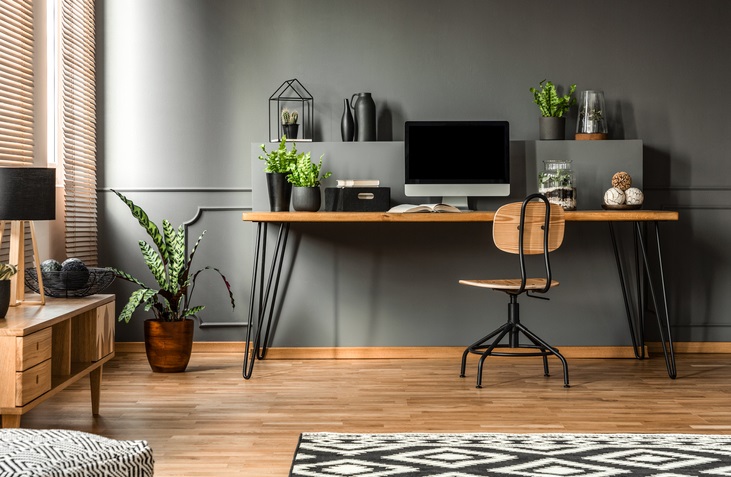 ---
Working from home offers an opportunity for real comfort and convenience, but unless it's effectively separated from your home environment, you may lose out on productivity. A too-casual office can seriously impede the ability to get things done, so it makes sense to distinguish the physical boundaries of your working space through the design of the space itself.
Setting Up the Office
Your office should be set up in an area separate from shared living areas. If necessary, invest in a home renovation project that will allow you to keep all your work in this space. This will allow you to be more efficient and keep the non-office space in your home free of any work items. Establish set hours for work to help you be more productive and to organize your day. Compartmentalizing your day and setting up an established routine will help you optimize your productivity.
When setting up a home office, take the following into consideration:
Equipment. Speed and efficiency are critical. Get a wireless hub and a separate phone line with messaging, conferencing and speaker functions. Invest in the fastest equipment you can afford, so you don't spend your time waiting for things to work.

Lighting. Good lighting (ideally natural daylight) is important. Daylight is the most evenly balanced source of white light and it is usually beneficial to have as much natural light as possible in the working area. Avoid glare by not placing any overhead lighting directly above computer screens, and don't put a computer screen directly in front of a light source, as it could cause eyestrain.

Privacy. Ensure that your office area affords you a degree of privacy from surrounding activities. Try portable screens or divider walls to divide areas and help create the quiet needed for concentration and work.

Layout/organization. Adequate and carefully thought-out storage requirements and organized papers are essential for productivity. An organized desk can prevent chaos.

Ergonomically designed items are an investment in your health and well-being. Foot rests, ergonomic instruments shaped to fit your hand and the chair you do your work in are all items that can enhance the work experience and make your time at work less stressful on your body.
Work With Our Pros
Your office should encourage focus rather than distraction. It should be a place that you want to spend time in! Work with trusted home, kitchen and bathroom renovation company DreamMaker Bath & Kitchen of St. Louis Park and you'll have nothing to worry about. To learn more about what a properly designed home office can do for you, just give us a call at (954) 637-6386.