---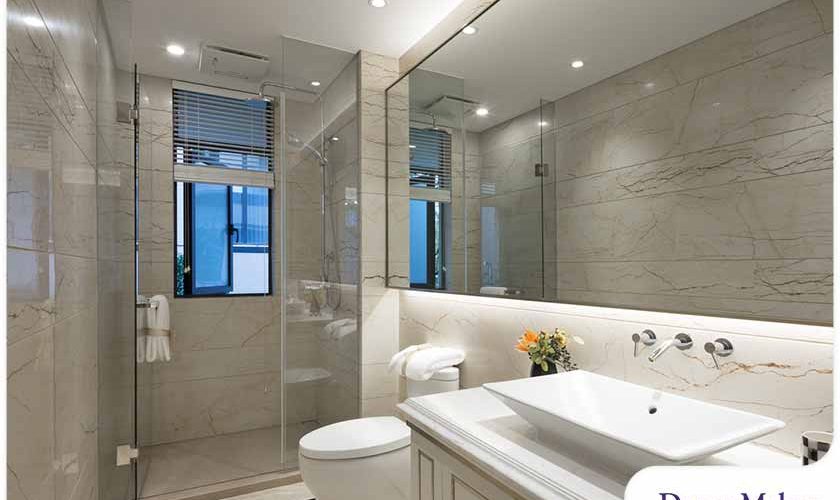 ---
The bathroom is one of the many areas of your home that benefits from proper lighting. Having adequate bathroom lighting is also vital to the safety of everyone in your household, especially if you live with an elderly loved one or an individual with physical disabilities.

It might seem like a minor modification, but making lighting improvements makes a world of difference in your bathroom renovation plans. Follow this basic guide to help you get started.

Know Your Lighting Types

Rather than relying on a one-size-fits-all approach, the best way to light your bathroom (or any living space) is to utilize different types of light fixtures.

Ambient lighting mimics the way sunlight illuminates a space and can be as soft and subdued as you like. This category includes chandeliers and recessed lighting.
Task lighting is placed in an area of high activity — in this case, the vanity. Light sconces and other vertical fixtures won't cast shadows on your face when turned on.
Accent lighting enhances the bathroom's focal points, like elaborate tilework or a beautiful piece of artwork.
Dealing With Bathroom Light Levels

The amount of light needed inside your bathroom depends on the task being performed and the bathroom itself. If you are renovating a master or guest bathroom, use fixtures with at least 75 to 100 watts of illumination. You can get this same amount of light from 24-watt fluorescent or 20-watt LED light bulbs.

Taking Advantage of Daylighting

Bathroom remodeling is not just about choosing your favorite light fixtures and determining the right illuminance. It is also about harnessing sunlight, which can brighten your mood and help regulate wake/sleep cycles. Make sure the bathroom design incorporates as much natural light as possible. Windows can be installed on adjacent or opposite walls to balance the light intensity. If privacy is an issue, consider adding bottom-up shades so you can still get daylight and views without being seen by prying eyes. For more reliable all-day lighting, a skylight should work.

Start From the Top

When it comes to bathroom lighting, the first area you should focus on is the ceiling. To illuminate the entire space, you'll want to decide between a flush-mount ceiling light or a recessed overhead light. Then work your way down toward the vanity. It can benefit from task lighting located above or on both sides of the mirror. Strip lighting underneath cabinetry is also something to consider in this area of your bathroom.

Let's Start a Conversation!

Regardless of the scope of the bathroom remodel, make sure to exercise caution when it comes to lighting. Electrical work is best left to the professionals. For a brighter and better-looking bathroom, turn to DreamMaker Bath & Kitchen of St. Louis Park, one of the top bathroom remodelers in the area. Call (954) 637-6386 or fill out our contact form to schedule a virtual consultation. We serve homeowners in Minneapolis, St. Paul, Bloomington and many other communities.