---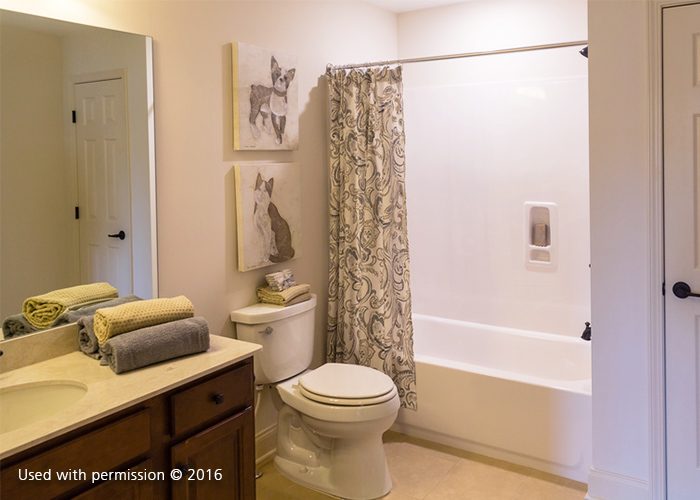 ---
Love warm showers but don't like the cold vibe that bathrooms typically have in winter? With the help of some simple updates, you can make the bathrooms in your home warmer this winter and beyond. Here's how.
1. Lay Down the Rugs
Now is the best time to get out those fluffy rugs. By adding a rug to the bathroom floor, you won't have to worry about cold feet anymore. Aside from helping make the floor feel warmer, rugs can also enhance aesthetics.
2. Consider Radiant In-Floor Heating
If you're already planning to get your bathroom remodeled, now is the perfect chance to incorporate radiant in-floor heating. This comes in two types: electric and hydronic. Electric radiant heat systems are best for hard flooring, such as tile or concrete. Hydronic systems, on the other hand, are generally more energy-efficient. Installed and set up correctly, radiant in-floor heating can help warm up not just the bathroom floor, but the entire room. Make sure you work with trusted and experienced bathroom remodeling contractors to ensure high-quality, safe installation.
3. Add Heated Towel Racks
Warm towels, warmer bathroom—these are just two of the benefits of installing heated towel racks. Aside from adding warmth to the room, they also dry towels quickly, so they're always ready for use. They can even help reduce the chances of mold buildup. Some heated towel racks can be set to heat up at certain times of the day, acting as a dual-function room heater.
Update Your Bathroom With DreamMaker
If you want to not only make your bathroom warmer in winter but improve its features, you're in the right place. DreamMaker Bath & Kitchen of St. Louis Park can help you with everything from minor to major bathroom remodels, including tub-to-shower conversions. Get in touch with us today by calling (954) 637-6386 to schedule a free consultation and initial meeting with a designer.